World Juniors go for gold with TV ratings: Numeris
The hockey tournament pulled in the most viewers across English Canada, while a SRC New Year's special topped the charts in Quebec.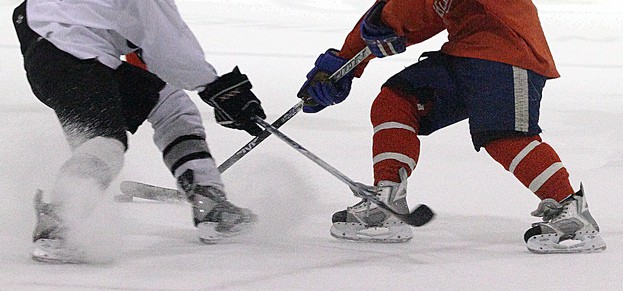 The International Ice Hockey Federation World Junior tournament tends to own the holiday season in Canada every year and draws a lot of eyeballs. This year was no different, as the tournament's Jan. 2 quarter-final playoff round topped the national television ratings, according to the latest data from Numeris. The ratings span the week of Dec. 28 to Jan. 3.
The World Junior's playoff round garnered the most average-minute audience, nationally, with approximately 2.86 million viewers. The World Junior preliminary matches, on the Tuesday and Thursday of the week, brought in roughly 2.08 million viewers.
CTV's The Rookie, which aired Jan. 3, had the third-highest national ratings with roughly 1.73 million viewers. The newly released sitcom series Call Me Kat did well for the network, as it drew an audience of 1.55 million. Saturday's edition of CTV News Evening Weekend amassed about 1.32 million viewers.
In the Quebec market, Radio-Canada dominated the top ten, with programs like the comedic year-in-review, Bye Bye 2020, satirical news show Infoman and the New Years' special of En direct de l'univers rounding out the top three.
Canada (Anglophone) 
1. WJC: Playoffs Canada on TSN+ Saturday at 7 p.m.: 2.86 million viewers
2. The Rookie on CTV Sunday at 10 p.m.: 1.73 million viewers
3. Call Me Kat on CTV Sunday at 8 p.m.: 1.55 million viewers
4. CTV Evening News Weekend on CTV Saturday at 6 p.m.: 1.32 million viewers
5. Dick Clark's New Year's Rockin' Eve on Citytv Thursday at 11:30 p.m.: 1.24 million viewers
Quebec (Francophone) 
1. Bye bye 2020 on SRC Thursday at 11 p.m.: 4.66 million viewers
2. Infoman on SRC Thursday at 10 p.m.: 3.47 million viewers
3. En direct de l'univers on SRC Thursday at 7 p.m.: 2.3 million viewers
4. Les coulisses du Bye bye 2020 on SRC Thursday at 12:19 p.m.: 2.16 million viewers
5. A l'année prochaine 2020 on SRC Thursday at 8:30 p.m.: 2 million viewers
Montreal (Anglophone) 
1. Dick Clark's New Year's Eve Rockin' Eve on Citytv Montreal Thursday at 11:30 p.m.: 87,000 viewers
2. CTV Evening News Weekend on CTV Montreal Saturday at 6 p.m.: 73,000 viewers
3. WJC Playoffs Canada on TSN+ Saturday at 7 p.m.: 66,000 viewers
4. The Rookie on CTV Montreal Sunday at 10 p.m.: 66,000 viewers
5. Call Me Kat on on CTV Montreal Sunday at 8 p.m.: 59,000 viewers
Toronto/Hamilton 
1.  Dick Clark's New Year's Eve Rockin' Eve on Citytv Ontario Thursday at 11:30 p.m.: 527,000 viewers
2. WJC Playoffs Canada on TSN+ Saturday at 7 p.m.: 486,000 viewers
3. The Rookie on CTV Ontario Sunday at 10 p.m.: 309,000 viewers
4. Call Me Kat on CTV Ontario Sunday at 8 p.m.: 294,000 viewers
5. Canada's New Year's Eve: A Countdown to 2021 on CBC Ontario at 11 p.m.: 278,000 viewers
Calgary 
1. WJC Playoffs Canada on TSN+ Saturday at 7 p.m.: 155,000 viewers
2. The Rookie on CTV Calgary Sunday at 8 p.m.: 108,000 viewers
3. Star Trek: Discovery on CTV Sci-Fi+ Thursday at 9 p.m.: 76,000 viewers
4. NCIS: Los Angeles on Global Calgary Sunday at 9 p.m.: 71,000 viewers
5. NCIS: New Orleans on Global Calgary Sunday at 10 p.m.: 60,000 viewers
Edmonton
1. WJC Playoffs Canada on TSN+ Saturday at 7 p.m.: 235,000 viewers
2. Canada's New Year's Eve: A Countdown to 2021 on CBC Edmonton Thursday at 11 p.m.: 108,000 viewers
3. The Rookie on CTV Edmonton Sunday at 8 p.m.: 102,000 viewers
4. COVID-19 In Alberta: A Path Forward on Global Edmonton Monday at 6:30 p.m.: 84,000 viewers
5. Conversation with the Premier on Global Edmonton Friday at 6:30 p.m.: 80,000 viewers
Vancouver/Victoria  
1. Global News 6 WKN on Global BC Saturday and Sunday at 6 p.m.: 306,000 viewers
2. WJC Playoffs Canada on TSN+ Saturday at 7 p.m.: 296,000 viewers
3. NFL Late on CTV Vancouver Sunday at 1:23 p.m.: 174,000 viewers
4. Global National on Global BC Saturday and Sunday at 5:30 p.m.: 167,000 viewers
5. Dick Clark's New Year's Rockin' Eve on Citytv Vancouver Thursday at 11:30 p.m.: 154,000 viewers