Hilite brings car-top OOH to Vistar's programmatic network
Over 100 screens on the move through Toronto are now available programmatically.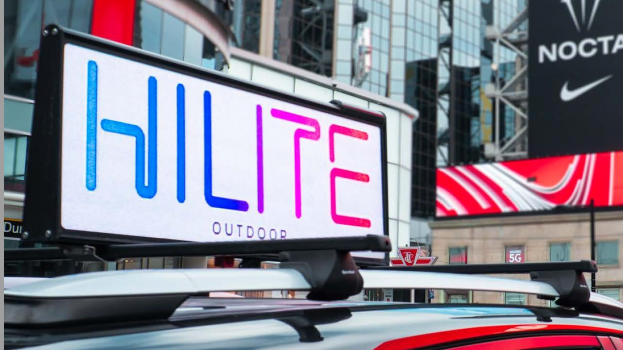 In a move to provide Canadian advertisers with another DOOH channel, Hilite Outdoor has partnered with Vistar Media to facilitate programmatic access to its car-top billboard network.
Hilite's car-top billboards provide advertisers with localized, dynamic geo-fenced messaging, supported by mobile retargeting for anyone who's seen the ad in question. The network launched with 100 faces on rideshare and delivery vehicles last year and has since grown to 120 – half of them are currently available through Vistar with plans to double that by Q3. The company also plans to further grow its network in Toronto throughout the year – which is claims is currently generating roughly 4.5 million daily impressions – and grow to Montreal this summer.
Scott Mitchell, managing director for Canada at Vistar, says the car-top inventory is a unique addition to what is available in Canada through the DOOH-focused platform, though it has handled similar inventory in the U.S. for companies like Lyft Halo.
"We were looking for a programmatic partner that is familiar with the mobility space and has verified success," Ben Bowden, director of sales at Hilite Outdoor, said in the release.
Hilite also works with platform partners like Hivestack, network partners like ENCQOR 5G and Ciena and technology partners such as Nvidia and Ericsson.