LG gets out of the arena to engage Leafs and Raptors fans
The electronics brand swaps out game-day experiences with a content series focusing on good being done in communities.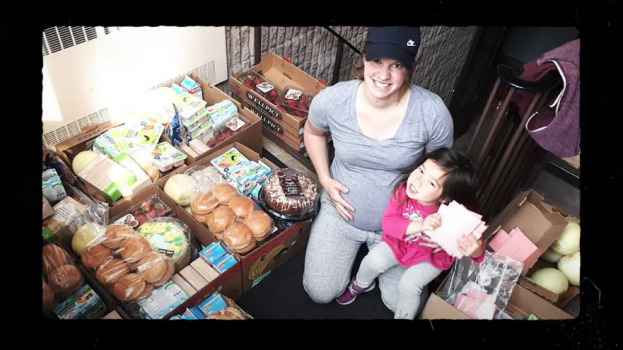 Over the last 12 years, LG Electronics has used a partnership with Maple Leaf Sports and Entertainment to engage fans of the Toronto Maple Leafs and Toronto Raptors, usually through in-arena experiences.
But with those kinds of experiences in short supply during a pandemic, the brand is running a content series about life's other "good" moments, facilitated by fans.
LG has been a partner with MLSE since 2009, and as the Consumer Electronics partner of its NHL and NBA teams, has included typical sponsorship activities, including providing LED screens through Scotiabank arena, including the large outdoor screen at Maple Leaf Square/Jurassic Park.
But the new "#LifesGoodMoment" campaign, which extends throughout the Leafs and Raptors seasons this year, goes into fans' homes and communities. It is led by a six-episode content series sharing personal stories from dedicated Leafs and Raptors fans who were nominated for the series to recognize the work they have done in their communities. The videos will launch every two weeks through to mid-May and be live on LG, Leafs, and Raptors social platforms.
Robin Powell, head of marketing at LG, says extends the longstanding MLSE partnership by finding a new way to connect with fans and elevate their experience – with eye to what they are going through right now.
"It connects with Toronto Maple Leafs and Raptors fans to celebrate all that they do to make life good for those in need in the community," he says. "Although we typically connect with fans during game day experiences in-arena, the current landscape has shifted our focus to ways of connecting with fans outside the arena. This campaign leverages our sponsorship platform to recognize the many ways that people continue to create moments that celebrate the importance of giving back in their own communities."
Raptors shooting guard Norman Powell and Toronto Maple Leafs alumnus Wendel Clark are featured throughout the series, delivering video messages to inform them about the recognition they've received and letting them know about the virtual "game day experience" they'll be getting. A social contest asks fans to share their own "#LifesGoodMoment" for a chance to win an LG Connected Home. Digital ads and social content are driving fans to the contest.
Powell says conveying LG's "Life's Good" brand vision can be a delicate matter at a time when many peoples' lives are in upheaval, "so we decided to use our Leafs and Raptors sponsorship platform to shine a light on the power of the human spirit and the many ways people continue to create moments that celebrate the importance of community. Our goal is to connect with Leafs and Raptors fans and recognize the moments that make life good, wherever they are and whoever they're with."
Creative agency Forsman and Bodenfors developed the insight and creative for the campaign, while MLSE created and produced the content series. Media agency PHD Canada is executing the paid social and digital campaign. Social agency Reprise will partner with social media influencers to create additional content and execute the social contest. Public relations efforts are managed by LG-One, GCI Canada's team for the electronics producer.