Molson and Sportsnet to broadcast HNIC in seven languages
The official beer of the NHL builds on its community-focused approach to sponsorship by bringing hockey to a bigger audience.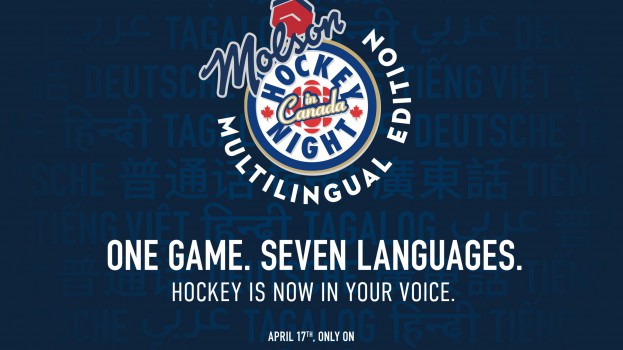 On Saturday, Apr. 17, Molson Canadian and Sportsnet are presenting Hockey Night in Canada in the country's seven most commonly-spoken languages.
The Molson Hockey Night in Canada Multilingual Edition effort is designed to invite more Canadians to experience hockey and Hockey Night in Canada, which will be streamed beyond the long-running English, French and Punjabi language broadcasts to include Cantonese, Mandarin, Hindi, Vietnamese, Tagalog, German and Arabic.
"We know that for the approximately 350,000 people who are new to Canada each year, hockey can be a way to forge new connections with their communities and unite them with their new home," Joy Ghosh, senior brand director for the Molson family of brands, tells MiC, "but, following a fast-paced sport with a lingo of its own can be challenging at first."
Molson is the official beer of the NHL, and Ghosh says this campaign furthers the brand's approach  to activating its sponsorship through the lens of community and togetherness. Most recently, the 'It's Complicated' campaign celebrated the "relatable challenges" of being a hockey fan through moments  fan communities would recognize.
While the "multilingual edition" is a one-time presentation around the April 17 broadcast, Ghosh says it is part of the ongoing partnership between Molson Canadian and Sportsnet.
"The campaign is an important step in bringing our national sport to more Canadians and we're proud to use Sporstnet's media megaphone to amplify the voices of Canadians that aren't always heard with equal measure."
According to Ghosh, audiences can expect to see their regular broadcasters take part in the Molson Hockey Night in Canada Multilingual Edition, including David Amber and Ron Maclean for the English-language broadcast and Harnarayan Singh for Hockey Night in Canada Punjabi, who will also speak to the campaign during their respective broadcasts pre-game, within the game itself and recapping intermissions.
Wavemaker, Molson's media agency, will manage the media support, which includes TV ads leading up to and during the broadcast on Sportsnet, digital advertisements on Sportsnet.ca, along with sponsored broadcast segments across Rogers media including Breakfast Television, 680 News and Tim & Friends featuring Hockey Night in Punjabi Host Randi Janda.
The Molson and Wavemaker team wanted to ensure that this initiative would be as inclusive as possible, Jared Aldridge, strategy director at Wavemaker Canada tells MiC, starting with research to identify the top spoken languages within each province versus the entire country, to confirm it would likely skew to the top languages spoken in urban centres, such as Toronto.
Further analysis – using Wavemaker's audience-planning platform, Maximize – informed a media plan that balanced driving awareness and stimulating positive conversation amongst existing hockey fans and new Canadians alike.
According to Aldridge, to reach an audience of new Canadians, the campaign needed to go beyond Sportsnet's traditional sports programming assets, tapping into the Roger's media ecosystem for access to influencers in each targeted community, and organic touch points across news, online editorial, and OMNI television, to complement spend on TV, digital video and social.
The Apr. 17 broadcast features the Toronto Maple Leafs versus the Vancouver Canucks at 7 p.m. EST, followed by the Edmonton Oilers versus the Winnipeg Jets at 10 p.m. EST streaming in the audience's language of choice on sportsnet.ca/molson. The broadcast and subsequent translations are powered by Spalk, a technology enabling broadcasters with multiple commentators who can call a game in any language from anywhere in the world.