Station 19 takes the top TV spot: Numeris
The Grey's spin-off took the lead after more than a year, while police and medical dramas dominated most markets.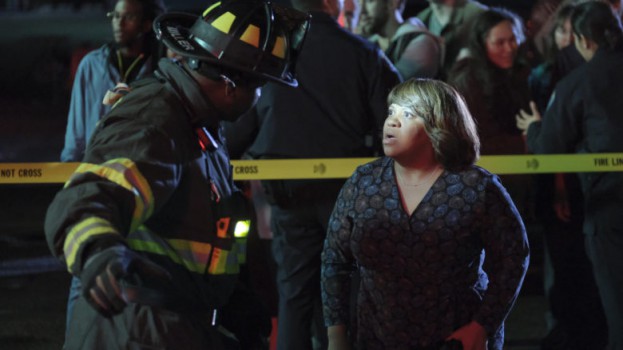 Grey's Anatomy's spin-off Station 19 (pictured) was the most-watched single-night broadcast in Canada for the first time since February last year with an AMA of 1.84 million, according to the latest TV rankings from Numeris for the week of Apr. 5 to Apr. 11.
The Good Doctor's two-week delay made room for the firefighting drama to take the top TV spot, followed by NCIS (1.77 million viewers) and Grey's Anatomy in third (1.76).
Station 19 also ranked a strong first in Montreal with 75,000 viewers.
CTV programming was prominent in Toronto with Grey's Anatomy topping the chart (421,000) there, followed by Wednesday's NHL tilt between the Leafs and the Canadiens in second with 420,000 viewers. SNL aired a brand new episode for the third-week straight on Global, making the top five in Toronto for the first time in a while with an AMA of 372,000.
Hockey Night in Canada's Oilers vs. Flames feature was the most-watched TV in Edmonton for the week (95,000 viewers), and police procedurals and medical dramas dominated Calgary and Vancouver's viewing.
With no episodes of Les beaux malaises 2.0, Radio Canada's En direct de l'univers took the top spot in French Quebec with 1.36 million viewers, making room for Infoman (1.07 million) and Guy Lepage's talkshow Tout le monde en parle (1.05 million).
National
Station 19 on CTV Thursday at 8 p.m.: 1.84 million viewers
NCIS on Global Tuesday at 8 p.m.: 1.77 million viewers
Grey's Anatomy on CTV Thursday at 9 p.m.: 1.76 million viewers
The Rookie on CTV Sunday at 10 p.m.: 1.74 million viewers
New Amsterdam on Global Tuesday at 10 p.m.: 1.74 million viewers
Quebec (Francophone)
En direct de l'univers on SRC Saturday at 7 p.m.: 1.36 million viewers
Star académie 2021 – Le variété on TVA Sunday at 7 p.m.: 1.34 million viewers
Alertes on TVA Monday at 9 p.m.: 1.07 million viewers
Infoman on SRC Thursday at 7:30 p.m.: 1.07 million viewers
Tout le monde en parle (en direct) on SRC Sunday at 8 p.m.: 1.05 million viewers
Toronto/Hamilton
Grey's Anatomy on CTV Thursday at 9 p.m.: 421,000 viewers
NHL Hockey – Leafs at Canadiens on Sportsnet Wednesday at 7:30 p.m.: 420,000 viewers
Blue Bloods on CTV Friday at 10 p.m.: 388,000 viewers
Saturday Night Live on Global Saturday at 11:30 p.m.: 372,000 viewers
The Rookie on CTV Sunday at 10 p.m.: 366,000 viewers
Montreal
Station 19 on CTV Thursday at 8 p.m.: 75,000 viewers
Grey's Anatomy on CTV Thursday at 9 p.m.: 68,000 viewers
The Rookie on CTV Sunday at 10 p.m.: 67,000 viewers
Law & Order: Organized Crime on CityTV Thursday at 10 p.m.: 57,000 viewers
FBI on Global Tuesday at 9 p.m.: 56,000 viewers
Edmonton
HNIC – Oilers vs. Flames on Sportsnet Saturday at 8 p.m.: 95,000 viewers
New Amsterdam on Global Tuesday at 8 p.m.: 94,000 viewers
NCIS on Global Tuesday at 9 p.m.: 88,000 viewers
The Rookie on CTV Sunday at 8 p.m.: 79,000 viewers
FBI on Global Tuesday at 10 p.m.: 75,000 viewers
Calgary
The Rookie on CTV Sunday at 8 p.m.: 92,000 viewers
New Amsterdam on Global Tuesday at 8 p.m.: 91,000 viewers
Blue Bloods on CTV Friday at 8 p.m.: 91,000 viewers
NHL Hockey – Flames at Leafs on Sportsnet Monday at 7:30 p.m.: 87,000 viewers
NCIS on Global Tuesday at 9 p.m.: 84,000 viewers
Vancouver/Victoria
FBI on Global Tuesday at 9 p.m.: 190,000 viewers
NCIS on Global Tuesday at 8 p.m.: 179,000 viewers
The Masked Singer on CTV Wednesday at 8 p.m.: 170,000 viewers
New Amsterdam on Global Tuesday at 10 p.m.: 163,000 viewers
The Rookie on CTV Sunday at 10 p.m.: 151,000 viewers