Sportsnet reveals Blue Jays details for 2022 season
The Rogers-owned network will deliver exclusive coverage across Canada.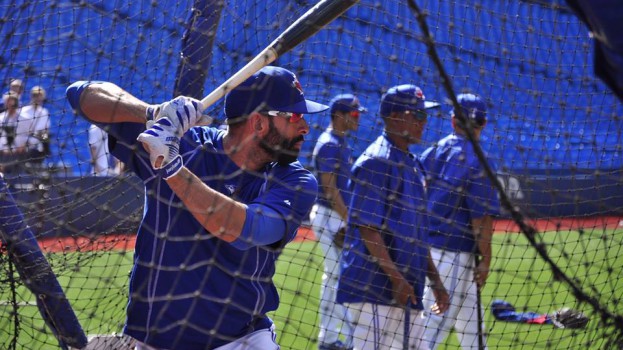 The Toronto Blue Jays will be up to bat on April 8 for the season opener against the Texas Rangers and Sportsnet has unveiled the full details of its 2022 Major League Baseball regular-season coverage.
From the first pitch of opening night through to the end of the postseason, Sportsnet will once again serve exclusive coverage to baseball fans across the network's TV, streaming, audio and online platforms.
Sportsnet, which is owned by Rogers Sports and Media, begins coverage with a special edition of Tim & Friends, followed by Blue Jays Central, airing on Sportnet and SN NOW. Sportsnet Radio Network will take on opening night with The FAN Drive Time with Ben Ennis and Stephen Brunt at 5 p.m., followed by live game coverage from The Rogers Centre.
In addition to coverage of the 162 regular-season games, Sportsnet will also cover spring training matchups in Dunedin, Florida, this month on the network's TV, streaming and audio platforms beginning March 19.
Fans who keep up with the Blue Jays via streaming and TV can watch  Dan Shulman, Buck Martinez and Pat Tabler share play-by-plays and game analysis during all Sportsnet broadcasts, while Jaime Campbell and Joe Siddall will return to Blue Jays Central throughout each game and offer pos-game analysis. On the field, reporters Arash Madani and Hazel Mae will bring the latest Jays news from the clubhouse and dugout fans' livingrooms.
Radio coverage this season includes Ben Wagner delivering play-by-plays from the booth, while Jeff Blair and Kevin Barker will keep fans in the loop on Blair & Barker live starting April 4 on Sportsnet 590 the FAN. They'll also host Jays Talk with analysis, interviews and insights. At The Letters podcast hosted by Ben Nicholson-Smith and Arden Zwelling also returns for another season
Meanwhile, Shi Davidi, Nicholson-Smith and Zwelling will also deliver Jays commentary and insights to fans on The Insiders, airing on Sportsnet's website and the SN app.
In years past Sportsnet has offered a wide array of sponsorship opportunities, including full-season full-season sponsorships, or sponsorships centred on events like opening night at the Rogers Centre or specific innings of games. Rogers is still finalizing its sponsorship deals and will release more information closer to the season opener.