Sportsnet reveals Blue Jays details
The Rogers Media brand has added sponsorable in-game elements, including super slo-mo and behind-the-plate cameras as well as a pitch tracker.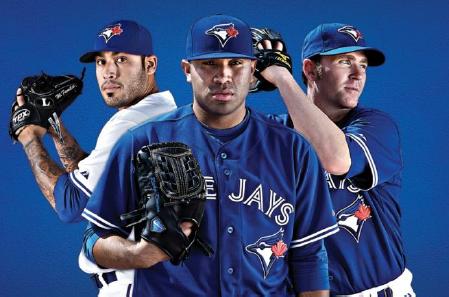 With the Toronto Blue Jays almost ready to take to the diamond for its April 2 season opener, Sportsnet has unveiled the full details of its 2013 MLB regular season coverage.
The Rogers Media-owned property will air all 162 of the team's regular season games on TV across all of Sportsnet's regional channels and Sportsnet One, and on radio across Sportsnet 590 and Sportsnet 960.
New to this season, all 162 games will be available for live-streaming on Rogers Anyplace TV and on the Anyplace TV mobile app, allowing users to watch the games live on their computers, tablets or smartphones as well.
Additionally, Sportsnet is the exclusive Canadian broadcaster of the MLB All-Star Game and the Home Run Derby, as well as the playoffs and World Series.
Sportsnet has also added a series of production elements to its coverage, such as a super slo-mo cam, a behind-the-plate cam and a pitch tracker, all of which are sponsorable.
Jamie Michaels, director, strategic brand integration, Sportsnet, tells MiC that Sportsnet offers a wide array of sponsorship opportunities, including full-season sponsorships, or sponsorships centred on events like opening night at the Rogers Centre or specific innings of games. Honda is the sponsor of the Blue Jay's April 2 home opener.
On TV, advertisers can leverage traditional 30- and 60-second spots, and also build custom sponsorships around broadcast elements, such as on-air graphics or packaged content. BlackBerry, for instance, is the sponsor of Blue Jays Central, which is presented from the BlackBerry Studio, while Home Hardware presents "expert advice" features during live game broadcasts.
Radio will also offer traditional ad formats, as well as sponsorship opportunities around on-air features. Meanwhile, the newly designed Sportsnet site, which uses responsive design, will offer advertisers custom display ad and video opportunities that will also appear on mobile devices.
Michaels says that Sportsnet is packaging its ad and sponsorship opportunities differently this season to connect its ad platforms and offer brands greater variety.
He adds that the Blue Jays' core target has traditionally been adults aged 25 to 54 with a male skew, but that the adult 18 to 34 demo and the female audience has grown over the few past seasons, making beer, automotive and financial services brands good fits for the team.