Mediabrands joins event to attract Black talent to advertising
All Things Ad TO welcomed IPG's media agencies to the mentoring event meant to address the industry's inclusion gap.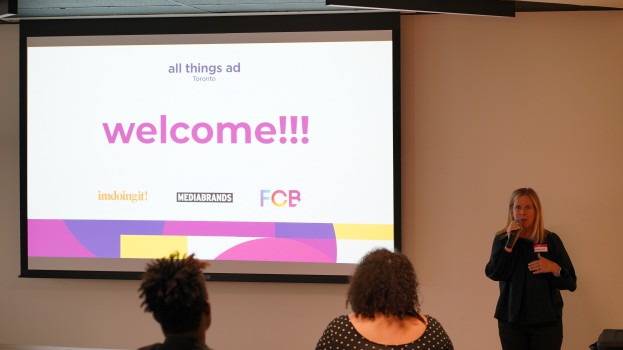 Last month Mediabrands Canada, in partnership with non-profit IMDOINGIT and fellow IPG agencies Performance Art and FCB Canada, presented All Things Ad TO, an immersive learning experience that exposes Black youth to advertising as a potential career path.
Now in its third year, this was the first time the event was held in-person.
This year's program content was expanded to include media information and media services, along with creative services that had been focused on in previous years. The half day event took place on June 24 in Mediabrands' offices in Toronto, where 40 people attended.
All Things Ad TO covered the basics of various advertising disciplines such as art direction, copywriting, account management, strategy, production, and media, and allowed attendees an opportunity to hear from speakers and network with professionals from media agencies UM, Media Experts, and Matterkind, as well as creative agencies, Performance Art and FCB.
This is the first year Mediabrands has been involved. Shelley Smit, CEO of UM and Mediabrands' DEI Community lead, says Mediabrands contacted IMDOINGIT after the 2020 event to discuss getting involved and expanding the media industry content. The program is part of the agency's multi-year DEI strategy intended to drive meaningful, sustainable equity within its network and a more inclusive industry community overall.
Smit says events like these are vital in growing awareness of the media industry.
"The data tells us that the advertising industry landscape in Canada has a representation and inclusion gap, skewing more heavily to a non-racialized, abled workforce than the general population. We see similar representation gaps in other key Canadian markets and across a breadth of diverse demographic criteria."
Mediabrands partners with other organizations like IMDOINGIT on initiatives that support the agency's community objectives. Smit says, "Participating in events like this and Black Professionals in Technology (BPTN) BFUTR Global Tech Summit are key to raising awareness of media as a career path for members of underrepresented populations. We also partner with the TDSB Black Summer Student Leadership program on a four-week internship placement where students are immersed in an experiential learning program with partner organizations, the goal being to expose the students to industries and organizations as future potential careers."
IMDOINGIT is an organization committed to creating a space for the underserved black community through its programs. It is currently working toward a Montreal version of the ad industry event that will take place in September.