BioSteel signs multi-year sponsorship with NHL
With Gatorade out, the league's new official hyrdration partner is activating at all levels, beginning at scouting.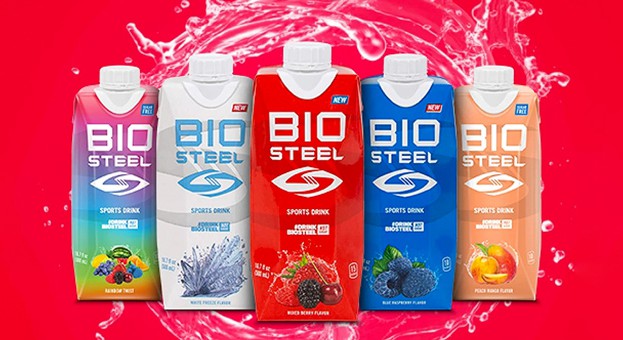 BioSteel Sports Nutrition is now the official hydration partner of the National Hockey League (NHL) and the National Hockey League Players' Association (NHLPA).
The multi-year partnership debuted Thursday during the 2022 NHL Draft in Montreal, where the sports drink brand is a presenting sponsor of national coverage across Rogers Sportsnet in Canada.
This marks the sports hydration company's first partnership with a League as it continues to introduce its "Clean. Healthy. Hydration." tagline across North America. BioSteel has been a sponsor of individual athletes and sports teams in the past, including the Toronto Raptors and the Dallas Mavericks.
As part of its new sponsorship, BioSteel receives League-wide rinkside marketing and product supply rights, retail activation rights, community engagement platforms, player marketing and activation rights and more. In addition, BioSteel will also be running a comprehensive advertising and promotion execution and, on Monday, will debut an NHL co-branded BioSteel drink called Blue Frost at 7-Eleven stores in Canada.
Beginning in the 2022-23 NHL regular season, fans will see NHL players hydrating with BioSteel during every NHL game in North America. BioSteel products will be featured on each bench, penalty box, and goal net.
The sponsorship gives BioSteel a year-round platform to activate brand programming with NHL marks, logos, teams, and players such as at the NHL Scouting Combine and NHL Draft, which includes a new BioSteel-sponsored Prospects Portal on NHL.com aggregating next-generation content comprised of NHL Central Scouting's rankings, player reports, NHL Scouting Combine statistics and results, and interviews about potential future NHL players. BioSteel will also be a presenting partner of a marquee NHL social platform to be announced at a later date.
In June, Biosteel's legacy competition Gatorade ended its long involvement with the NHL amid a shift in its sports sponsorship strategy. Despite this, parent company PepsiCo is continuing its NHL sponsorship with the rest of its portfolio, including Pepsi, Mountain Dew, Aquafina, Rockstar, Lay's, Tostitos, Ruffles, Doritos, Cheetos, Rold Gold and Miss Vickie's.
Michael Cammalleri, a former NHL player and co-founder and co-CEO of BioSteel, describes this as a "full circle moment." BioSteel was founded in 2009 when Cammalleri and his business partner John Celenza, a former NHLPA intern, set out to offer a "better-for-you" hydration option for athletes. The company created a zero-sugar formula that features essential electrolytes but no artificial flavours or preservatives. It is a highly sought-after brand in professional sports, regularly found in athletes' lockers throughout North America, including many in the NHL.