BioSteel pushes its partnership with the Toronto Blue Jays
If you've been wondering about the "BioSteel Baths" at the Rogers Centre, it's part of the sports drink's push into more major sports sponsorships.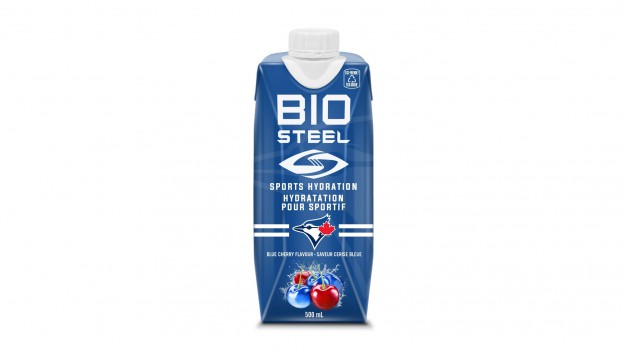 With the release of a new product into Sobeys stores, BioSteel has confirmed something keen-eyed Toronto Blue Jays fans may have noticed this season: the sports drink is now one of the team's official sponsors.
BioSteel began its term as the exclusive sports drink in the home and away dugouts and bullpens for the Blue Jays' 2022 season, something that was hinted at by the fact that celebratory cooler dumps at the end of games are now "BioSteel Baths."
The brand is also prominently featured throughout the Rogers Centre on digital concourse signage and sampling events. Financial terms and length of the deal have yet to be disclosed.
To extend the partnership, BioSteel has released Blue Cherry, a new limited-edition flavour that comes with Blue Jays-themed packaging. The beverage is available at Empire-owned stores Sobeys, Needs, Boni-Soir, Voisin and IGA Quebec through the end of the season.
The new Blue Cherry flavour will also be supported by Blue Jays' All-Star pitcher Alek Manoah, who signed an endorsement deal with the brand earlier this summer.
The Blue Jays are BioSteel's first MLB partner, as the brand has been growing its presence among major sports. In 2020, BioSteel became the official sports drink of the Toronto Raptors, and earlier this summer replaced Gatorade as the official sports drink of the NHL.