CTV promises something amazing
The Bell Media conventional channel has launched its fall TV campaign, which focuses on series like Played and features NFC-enabled transit vehicle ads.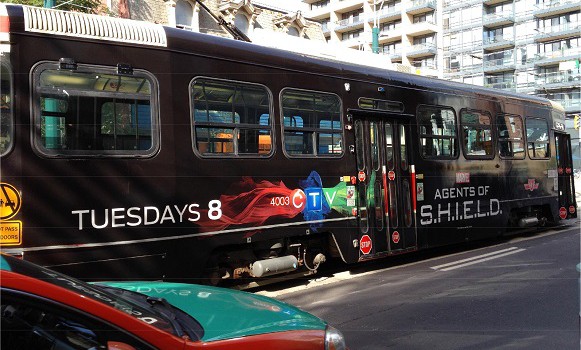 CTV is reviving the "Amazing" tagline it rolled out at its upfronts for a campaign to promote its new and returning fall TV series.
With media and creative handled internally by the Bell Media Agency, the campaign is aimed at CTV's core adult 18-to-49 and 25-to-54 audiences and focuses on new series Played and Marvel's Agents of S.H.I.E.L.D.
Alanna Barkley, senior director, marketing, conventional and news, Bell Media Agency, tells MiC that CTV chose to focus on Played because it's a Canadian series that the channel is banking on performing well in the Thursday 10 p.m. slot after Grey's Anatomy. She adds that Marvel's Agents of S.H.I.E.L.D. was an obvious choice, given the current popularity of superheroes.
The campaign relies primarily on Bell's internal assets, including TV spots across all Bell properties, digital ads and takeovers of the CTV website for specific series on their premiere dates, mobile ads and radio spots.
Barkley says radio plays a much larger role in this fall's campaign because Bell now has a wider variety of radio properties at its disposal. She adds that is has also proven to be an effective medium for reminding potential viewers of what's on TV as they drive home from work.
The campaign is also supported by a heavy external buy, with OOH in Toronto, Vancouver, Calgary and Edmonton. The OOH strategy in Toronto includes TTC car wraps and QR code and NFC-enabled ads that activate special promos when scanned or tapped, a tactic that Barkley says CTV has never used in past campaigns. The external buy also included a YouTube homepage banner promoting Marvel's Agents of S.H.I.E.L.D.
Barkley says that digital is also starting to play a larger role in CTV's fall TV campaign as more viewers turn to digital as a medium to watch TV, or to augment the TV experience.
She adds that the fall TV campaign continues to be the largest media spend for CTV, given that there's so much big programming returning or premiering.
The campaign will be in market for another four weeks.