Sunwing stays on top: Media Monitors
As the temperature fluctuates dramatically, travel services are dominating the Toronto market.
Sunwing Vacations was the largest buyer of radio advertising in the Toronto market for the second week in the row. According to the latest Media Monitors chart, the travel company had a play count of 800 for the week of Jan. 8 to 14.
Sunwing's big buy comes the same week as it kicks off a winter campaign centered around Blue Monday, targeting those seeking to warm up somewhere far from Canada's dreary weather.
In the ranking's second spot was the Toronto International Boat Show, which climbed up from #3 the previous week.
Rounding out the list were the Ford Dealers Association at #3 (up from #4), OLG Slots and Casinos at #4 (making a big leap from #54) and Metrolinx's Presto card services at #5 (new to the list). Also new on the charts were the Toyota Dealer Association (#6), Government of Ontario (#7), OLG (#9) and Food Basics (#10).
Sunwing's big buy helped keep travel services as the #1 category buyer for Toronto. Advertisers in the vertical purchased 2,588 spots (up from 2,422 the previous week).
In Montreal, CTV remained the most prolific advertiser for another week. Following in the top-five were advertisers that were mostly new to the charts: the Ford Dealer Association ranked at #2, Bell's "Let's Talk" awareness campaign came in at #3 and Corbeil Appliances came in at #4.
Rounding out the top-five was another Bell Media property, Crave TV, which stayed put in the #5 spot from the previous week.
Restaurants and night clubs were the largest category buyer for the second week in a row in Montreal, however those spots decreased to 505 (from 569).
Toronto, by advertiser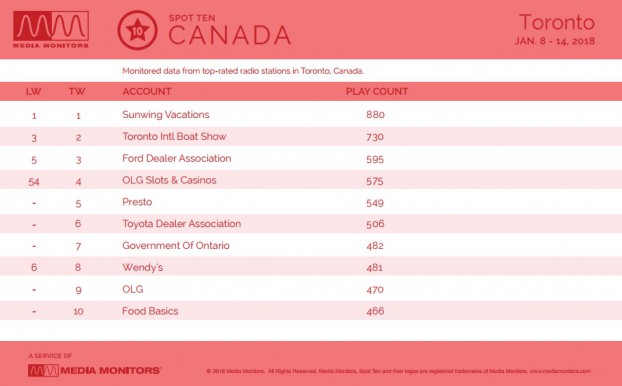 Toronto, by category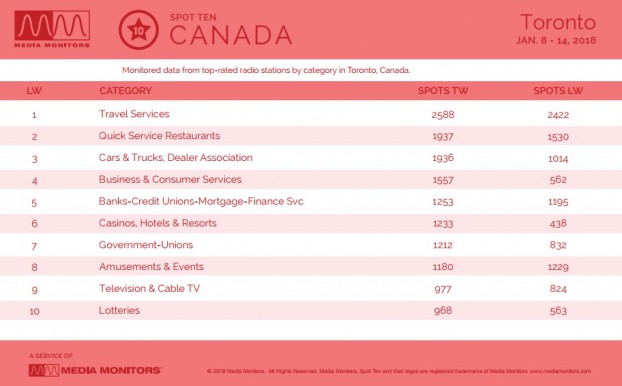 Montreal, by advertiser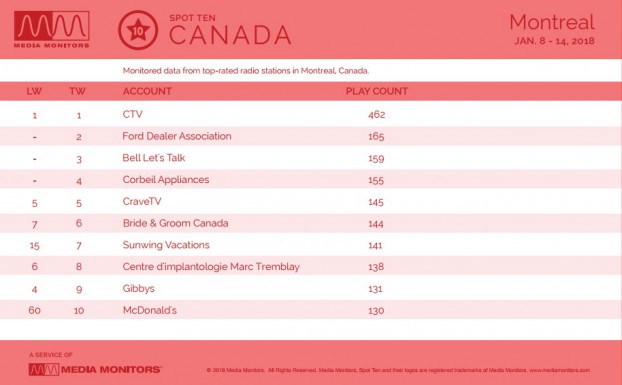 Montreal, by category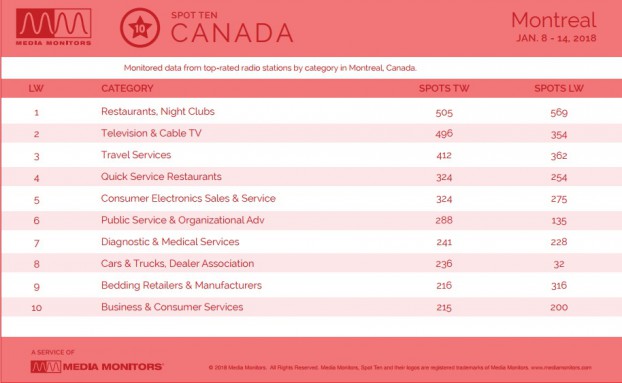 Image courtesy of Unsplash