Fall TV: Hits and misses
Senior media execs give MiC their take on the winners and losers of the new season.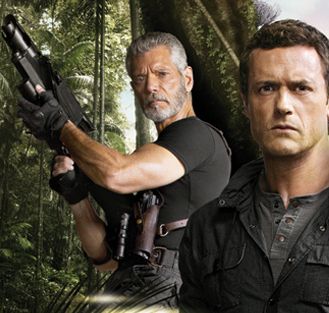 From airplanes to dinosaurs to the return of Simon Cowell, it has been a busy few weeks of fall TV premieres. So MiC reached out to three senior media executives to find out if the start of the schedule is panning out as expected.
What debuts surprised you with better than expected ratings?
"Terra Nova. Ratings were a hit against men. It will be interesting to see if this show will last, or just be another prehistoric Event." – Christina Laczka, group director, PHD
"I wasn't  surprised that Pan Am did slightly better than expected, but the fact that 9% more people tuned in to Pan Am than Desperate Housewives surprised me. There are a few shows that should quit while they are still somewhat ahead so I'm glad this is the last season for DH. Its audiences were down 20% from last year's premiere.  Pan Am also had more than three times the viewers of The Good Wife (in post-release on Global). Will be interesting to see how much of the Pan Am audience sticks around for week two.
"Mike & Molly did over twice the Toronto ratings expected (A25-to-54).  The lead-in of Two and a Half Men, as well as Melissa McCarthy's recent Emmy win and Bridesmaids exposure definitely peaked interest in the show this season. Continued curiosity in Two and a Half Men (sans Charlie) kept week two's rating at a 10 in Toronto (double last season) and that's even on CTV Two.  I've watched both episodes, and while not a loyal follower, I'm still getting the half-hour of slightly corny jokes I always did (with Charlie) so not much difference to me.
"Terra Nova debuted to 1.4 million viewers (same amount as The Big Bang Theory strip repeat on CTV at 7:30) . It premiered to mediocre numbers in the States too, especially considering it's rumoured to have cost $20 million to film the two-hour pilot. The real test is in the next two weeks when viewers will decide if they like what they saw, but either way it doesn't matter that much because Fox originally ordered 13 episodes instead of just the usual pilot, so I'm stuck watching this with my sci-fi loving boyfriend for at least the next three months. Yay. The show may last a season, but I think it's most likely to become [like] last year's The Event." – Bailey Wilson, manager, broadcast investments, J3/UM Canada
"Unforgettable was a pleasant surprise although it is scheduled in a good time period to allow it to grow. The other surprise was How to Be a Gentleman, we thought this should be cancelled after the first commercial break!" – Carol Cummings, Christopher Walton, Sam Vaccaro, Media Experts
"Terra Nova on Citytv. Lots of hype but it worked as the launch pulled a 6.65 grp based on Fall 2010, that's a top 20 show. Surprising, as Modern Family on City last fall averaged 4.3 GRPs, and that was the break out show on Citytv. Whitney had the bonus of leading into the premiere of Two and a Half Men and got a great audience among 18-to 49-year-olds, so the show obviously resonates in that demo." – Michael Neale, group account director, MediaCom
"No big surprises as of yet. Premieres can debut very well with the marketing buzz and heightened expectations. So the high ratings for Terra Nova and Two and A Half Men may be on the radar in the short-term, but what about long-term sustainability?" – Sharlene Gerontzos, investment manager, StarComMediaVest Group
Which ones disappointed?
"The X Factor. It was beat out by Survivor, but we're just at the beginning. Auditions episodes don't tend to do as well as the performance/results with this type of show. We are still betting it will pick up." – Christina Laczka, PHD
"The biggest shocker to me was Prime Suspect. Even with the intense promo push from Global – I can't even tell you how many times I've seen that promo spot – Prime Suspect premiered to a third of what it was expected to do and week two fell even further below estimates. It had a tough go premiering against the Grey's Anatomy's two-hour premiere and now has to go head to head with The Mentalist every Thursday, so a ratings rebound doesn't seem likely." – Bailey Wilson, J3/UM Canada
"We thought , as did most, that The X Factor would have had a stronger showing, but Modern Family stole the last hour's audience." – Carol Cummings and her team, Media Experts
"Sing-off and Up all Night on CTV. The Sing-off had the boost of the genre of the moment – singing reality shows – and Up All Night had good reactions at the upfronts." – Michael Neale, MediaCom
"The X-Factor debut was a bit softer than expected, under-performing vs. station estimates against a few key demos but we expect momentum to build as the show continues and eventually meet our expectations as the big hit of the fall. Prime Suspect was not as strong as expected but competing with the two-hour premiere of Grey's Anatomy made for an obvious challenge." – Sharlene Gerontzos, StarComMediaVest Group
Bets on which shows won't make it through the fall?
" TOO MANY!!!" – Christina Laczka, PHD
"I'd be surprised if The Playboy Club made it through October, it premiered to small numbers and did even worse than expected in the US – less than four million viewers in its second episode. The Parents Television Council in the US isn't upset by the show's poor performance, they are campaigning to get the show off air deeming it degrading."
"Other shows that haven't been meeting expectations and will most likely have their seasons cut short include Hank Azaria's comedy Free Agents – I actually thought this one was good, apparently I'm the only one. Charlie's Angels and Prime Suspect are both up in the air as well unless they get a ratings lift somehow. Programs typically plateau around week three so we should know what's getting the axe in the next few weeks." – Bailey Wilson, J3/UM Canada
"Free Agents is close to cancellation and deservedly so. How to be a Gentleman and Happily Divorced will not be far behind." – Carol Cummings and her team, Media Experts
"Happily Divorced and Prime Suspect on Global, because the audiences are just so low to give them any real chance to grow even if promotion goes behind them. Furthermore Prime Suspect already received a lot of promotional support but is a pale version of the original British drama that starred Helen Mirren. Charlie's Angels (CTV). How many times do we have to resurrect this show before the message sinks in ?" - Michael Neale, group account director, MediaCom
"Definitely Charlie's Angels and How to be a Gentleman. I Hate My Teenage Daughter and Happily Divorced should also suffer the same fate, but their cancellations may come more slowly as Friday time-slot holes may be harder to fill." – Sharlene Gerontzos, StarComMediaVest Group
If you had to bet on the hit new show of the season, what would it be?
"Pan Am. As long as the storyline doesn't get too complicated." - Christina Laczka, PHD
"Well New Girl has had a full season ordered after only two episodes even with the sad departure of Damon Wayans Jr. who played  Coach.  He filmed the pilot but chose to return to Happy Endings which was picked up for a second season (and the funniest premiere this season – watch this show if you don't already). Pan Am's premiere ratings give the rookie show hope – great show for a Sunday night – but it's too early to tell just yet." – Bailey Wilson, J3/UM Canada
"Whitney. It is witty, funny and highly relatable." –Carol Cummings and her team, Media Experts
" Terra Nova on Citytv. I hope it stays strong so City can grow their ability to offer top rated inventory as a viable choice to Shaw or CTV." – Michael Neale, group account director, MediaCom
"We're still banking on The X-Factor with The New Girl as the next runner-up." – Sharlene Gerontzos, StarComMediaVest Group