Fall TV: Why CTV's Phil King is grinning
CTV and CTV Two have seven of the top-10 rookie US shows, and a strong returning bench, the network programming boss says.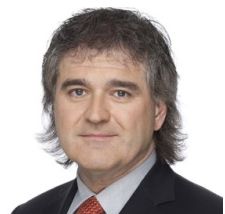 Five weeks into the current TV season and CTV programming president Phil King is talking up returning primetime performers and a strong slate of US rookie shows.
King said CTV aimed to maintain a strong returning bench of US network series that attract the big ad dollars this fall.
Those include the top-rated comedy in Canada, The Big Bang Theory, now averaging just over four million viewers on Thursday nights; the top drama, CSI: Crime Scene Investigation, averaging 2.72 million viewers; and the top-rated reality series, The Amazing Race, with 2.6 million viewers this fall, according to BBM Canada data for Sept. 19 to Oct. 23.
CTV has also done well when it comes to rookie shows. The Canadian network's output deal with ABC/Disney came through with new performers like the female-driven 1960s-set drama Pan Am and the fairytale drama Once Upon a Time. Predictably, the new reality competition series The X Factor is the top-rated rookie show on Canadian TV, with an average of 2.08 million total viewers for its performance show on Wednesday nights on CTV.
One of the net's biggest fall success stories is Unforgettable on Tuesday nights at 10 p.m., which is not only the second-highest-rated new show, with an average of 1.9 million viewers, it gets CTV back in the game on Tuesday nights where Global Television dominates with Glee at 8 p.m. and NCIS: Los Angeles at 9 p.m.
"That was a target for us, to beef up Tuesday. It was the one night we weren't competitive last year. Now we are with a big hit [in Unforgettable]," King said of the new police procedural much coveted last May at the Los Angeles Screenings.
With Tuesday night shored up, CTV is looking at continuing its top performance on all other primetime nights, except Saturday where the CBC has Hockey Night in Canada.
On Thursday nights, CTV has Whitney, the fifth-highest-rated new show, at 8:30 p.m., in pre-release due to Grey's Anatomy airing at 9 p.m.
As CTV builds an audience for Whitney after the juggernaut The Big Bang Theory at 8 p.m., King says the network is also preparing a likely successor for when perennial performer Grey's Anatomy eventually fades out.
Rival Citytv has two top rookie shows in Terra Nova on Monday nights with an average 1.46 million viewers, and Person of Interest, with 980,000 average viewers.
And Global Television grabbed the ninth-highest rated new show in A Gifted Man.
Otherwise, CTV and CTV2 have seven of the top-10-rated new shows this fall season, five weeks out of the gate.
That's a big turnaround for CTV's secondary network, the former A channel stations, which were threatened with closure by the former CTVglobemedia management before Bell Canada acquired the network and rebranded it as Bell Media.
The phone giant poured marketing dollars into CTV Two and gave it buzzed-about rookie US shows like The X Factor results show, Up All Night and Man Up, and marquee returning shows like the Two and a Half Men reboot post-Charlie Sheen, Mike & Molly and Criminal Minds.
The bet has paid off so far, according to King, in large part thanks to The X Factor results show airing Thursday nights on CTV Two.
"It's one reason that CTV Two has had tremendous growth," he said.
The Wednesday night X Factor performance show has also kept CTV competitive in the 8 p.m. slot against the Survivor franchise on rival Global Television.
The X Factor launched in Canada in September, as in the US, with sky-high expectations that predictably neither Fox or CTV have lived up to.
But King sees The X Factor gathering steam for his network as the first season draws to a competitive finale, and into future years.
"Let's see where it goes. It's helped fuel two networks by putting CTV on the map on Wednesdays at 8 p.m., and CTV Two on Thursdays," he said.
From Playback Daily