KFC gets together with its fans
As part of MiC's 2012 goal of highlighting the best international campaigns, check out this contest from the Australian arm of the QSR aimed at bringing Facebook friends together.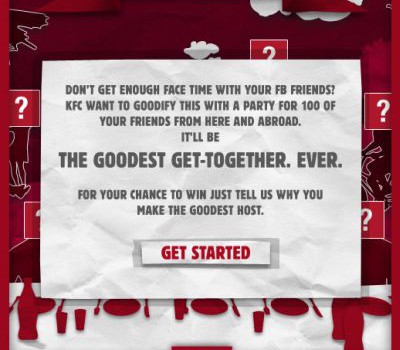 It's 2012, and Media in Canada knows as well as you do that media innovations don't stop at the Canadian border.
So, this year we are making an effort to bring the coolest international executions to your attention. Have something you think we should mention? Email us at Vmaloney@brunico.com.
Facebook status updates, Tweets and texts are fine, but don't you ever wish you could see your friends a little more in real life?
KFC in Australia has launched a campaign based on research that 70% of Aussies wish they could spend more time with their mates in person.
The QSR chain's "Goodest Get-Together" competition, planned by MediaCom with creative by Ogilvy, is housed on the KFC Australia Facebook page and invites consumers to submit a 25-word statement telling the brand why they would be the best host for an event bringing together 100 of their Facebook friends for an in-person party.
KFC will shortlist 20 entrants to progress to the next round of the competition on Jan. 9 and the winner will be announced on Jan. 16. From there, preparations for the party will begin and the get-together, with all 100 friends in tow, will be held on Feb. 11.
Not only will the brand provide accommodation for friends that live up to 50 km away from the winner's city, but also flights and hotel stay for a maximum of 15 friends that live in a different state and another five friends that live abroad. In addition to the event, the winner will also be given the chance to star in an Australian KFC commercial.
Targeting the Gen Y demographic, social media will continue to be a major component of the brand's marketing strategy moving forward in 2012, Natasa Zunic, marketing director, brand development, KFC Australia, tells MiC.
With an already staggering number of Facebook fans (350,000 – making it the ninth largest branded Facebook page in Australia), the contest has helped it to acquire an additional 18,340 followers since its launch on Dec. 26, she says.
The QSR is spending the media budget for the campaign on digital, promoting the contest online and eventually placing the commercial, created with the winner in the starring role, on YouTube and other digital platforms, adds Zunic.