Maytag takes over Monday night at the CBC
The home appliance brand has produced co-branded spots with the broadcaster that will air during shows including Coronation Street and Redemption Inc.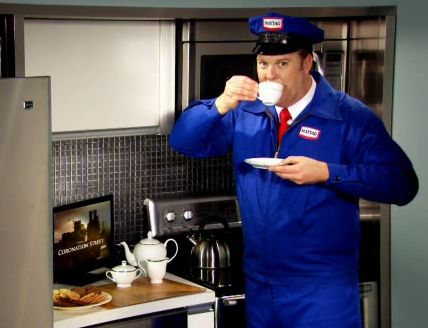 Maytag is dropping a larger puck in the CBC's centre ice as a follow-up to its co-branded stint with the broadcaster last year in an effort to give the brand a Canadian voice.
Launching today, the home appliance brand will have that voice heard once a week on the CBC in the form of a sponsorship of Monday night programming – now called "Maytag Mondays."
From 6:30 p.m. until 10 p.m., a series of co-branded commercials – created and planned by MediaCom Canada – will feature Maytag's iconic repairman with a mix of elements from shows Coronation Street, Redemption Inc. and Mr. D, Anthony Hello, director of content, MediaCom Canada, tells MiC.
Maytag also enlisted Toronto-based agency Red Lion to create separate commercials (also to air during the sponsored night) in support of its product offerings.
In an effort to cover multiple facets of Canadian culture, the brand also decided to include an in-show feature during Saturday's Hockey Night in Canada. Hello says that MediaCom Canada worked with the producers at CBC to compile a list of dependable past and present players, calling it "Dependable Lines." A spot inviting viewers to vote online for their favourite player will air during the hockey game.
The goal is to reach household decision-making women by having a presence during the broadcaster's arts and entertainment programming and again while they watch Canadian hockey with their family, says Hello.
At around the same time last year, Maytag started working with MediaCom Canada to develop a Canadian viewpoint, says Hello, adding that the brand needed to tell a different story than was being told south of the border.
"We were looking for something that was going to differentiate Maytag," he says. "It had to be something that was uniquely Canadian in feel, because we were unable to lift US positioning which was all around 'Made in the USA' and national pride."
The result was a 10-second spot that showed hockey players chucking their Hockey Night in Canada branded jerseys onto the ice rink with the repairman placing them in a Maytag washer. While the effort was minor in comparison to this year's program, the results were uplifting, with sales doubling during the campaign window, says Hello.