TV CEOs speak out
The TV Day panel agreed that TV is still a strong medium, and that reaching digital audiences and advertisers on emerging platforms needs new revenue models.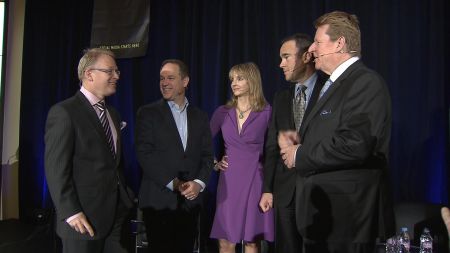 TV is very much alive, content is king, and broadcasters that secure new models to entice advertisers and audiences on emerging multiple platforms have a future.
That was the prevailing message Thursday during the Canadian TV CEO panel at TV Day in Toronto.
The consensus among a panel made up of Bell Media president Kevin Crull, TVA Group CEO Pierre Dion, Rogers Media president Keith Pelley, Shaw Media president Paul Robertson and CBC executive VP of English services Kirstine Stewart, was the TV experience has changed, but it retains strength as a key medium.
And while emerging multiple platforms and social media complement the popularity of TV content, connecting with digital audiences and advertisers requires new and different revenue models and ad integration solutions.
"We don't have our head in the sand [about the fact that] there's fragmentation and new media – it's not really changing the importance of live viewing," Crull argued.
"Viewing video entertainment on multiple devices and on demand is a massive trend that we're all participating in and developing products to serve," he added.
Rogers Media's Pelley insisted multiple platforms drive viewers back to TV by providing additional opportunities to experience popular broadcast content on alternate screens.
"I think multi-platform is critical. I do believe that the more people experience it on different platforms, [the more] it leads to television. So the multiple platform devices on which people are consuming media are actually enhancing the television experience," Pelley said.
TVA Group's Dion reminded the TV Day audience that networks still need big shows to drive viewers to emerging digital platforms.
"TV is still at the heart of convergence," he added.
For broadcasters still paying top dollar for expensive TV rights, it wasn't a surprise they agreed big event TV programming and audiences offer the biggest bang for the buck in an increasingly fragmented digital world.
"Great content is what matters. Lousy content on any screen is still lousy content," Crull argued.
The challenge is coming up with advertising solutions.
"The great content [is] not a complicated business; you have to pay for that great content, either through advertising or… through subscription. And I think that for mass media, subscription is a very hard business model," said Crull. "This is called mass media because it requires mass economics to fund programming."
What's confounding broadcasters is that advertisers spend differently in the multi-platform universe by exploiting audience engagement opportunities across all platforms.
So TV networks have to find integrated ad solutions to accompany their programming offerings.
"Each program is now a brand that has a 360-degree approach to be on all platforms. I think advertisers and agencies see that when they get involved with a broadcaster, they get involved with different brands, and it's a partnership to build up that brand," Dion explained.
"I think at the end of the day, the winners are going to be the best brands with the best content integrated across multiple platforms, and engaging advertisers in that way," Pelley agreed.
Winning formulas offered included packaging and presenting advertising solutions non-instrusively to engage consumers, and integrating advertisers from the get-go.
Shaw Media's Robertson said successful  monetization for TV networks will come when they change the way they measure impressions, for example, by aggregating data from VOD and mobile platforms in the same way linear TV accounts for viewership.
"Put it all together in the same bucket and call it video advertising, and sell it against a combined CPM with one measurement technique," Robertson proposed.
But as with much else in broadcasting today, the CBC's Stewart said a business case was required to justify setting out in new directions.
"If the money isn't following or leading, it really does create a pressure point in not being able to invest in innovation, if we can't figure out how to make this work. Until we can figure out how to get revenue out of that value, it can really limit the way we go forward," she added.
But Crull, while conceding multi-platform brand integration campaigns from the networks take time from both the broadcaster and the agency, argued both parties need to experiment to get the formula right.
"There's no question that the monetization model is viable. I think we have a lot of work to do to take this art that we do to translate it into a science that can be measured," he said.
Photo: CityNews
From Playback Daily