QR code sundials and a virtual canvas: MiC's Global Tour
Mobile executions from brands in Germany, Korea and Thailand are stops on the tour this week, with MiC asking Shannon Pluem from Initiative to weigh in.
For this week's international campaign tour, we looked at mobile-centric executions that had brands fashioning a shadow through a QR code, creating an artist's canvas using Google Street View images and augmented reality as well as turning the passive consumption of ads into an interactive game.
MiC spoke with Shannon Pluem, innovation director at Initiative on the campaigns, what she thought worked and what didn't and she would do things differently.
Korea: Emart gets smart with a QR code sundial
The objective was to bump up sales during the slow-moving lunch hour period for Korean supermarket Emart. A life-sized QR code with missing outlines (placed in street locations across Seoul) that uses shadows cast from the sun between 12 and 1 p.m. to complete the pattern was the solution.
Pedestrians could scan the shadow-created code, which would then take them to the "Sunny Sale" mobile homepage where they could download coupons or purchase items and have them delivered to their home. The result was over 12,000 coupons downloaded, with the supermarket seeing a 25% increase in sales during the once sluggish lunch hour period.
Shannon Pluem: The business challenge here is so specific that the immediacy of mobile makes it a natural fit.  This is a clever and creative way to use a QR code where many have struggled with them and failed.  We have done weather-triggered ads in the mobile space, but this takes it to another level.  Not only is it attention grabbing and engaging, it is unexpected and fun.
The other great thing about this is that it is scalable.  It could be tested in a few key locations and rolled out once they saw results.  The budget commitment did not have to be large to test it.  The only risk was the weather.
The unique execution combined with the coupon, guided consumers to make purchases at a time of day when they were not predisposed to doing so.  The next phase would be to reinforce this purchase behavior to keep growing sales during this time of day.
Click here to read the international story.
Germany: Absolut Inspires in a limitless world
There's really no hiding from augmented reality, especially when Absolut uses it to make the world's landscape its own private canvas. To spur creativity in consumers, the brand launched an AR app that utilized images from Google Street View, allowing consumers to participate in creating a world of virtual art. Consumers could view artwork drawn by others, as well as join in by leaving their own creative mark on Google images of buildings and locations. The brand even went as far as using the artwork to create personalized bottles of its vodka for the artists.
Pluem: My first reaction was to try this out immediately and create my own bottle.  The Absolut bottle is so iconic and their campaigns have always had such an artistic flair that it's a natural evolution for the brand.  It is such a simple idea and so easy for consumers to do.  The only limits placed on the creativity are those of Google Street View and the consumers' imagination.
The campaign objectives were not really clear, nor does it seem like there were any success metrics outside of app downloads, social media shares and buzz.  Outside of purchasing your own custom bottle, it may be difficult to tie this back to sales.  It would be great if the custom bottles were available in store as well to take it one step further.
Click here to read the international story.
Thailand: 7-Eleven merges media with mobile
Convenience store franchise 7-Eleven in Thailand has turned its TV, online and radio commercials into an interactive game using audio technology from UK-based UntapTV. With the aim of increasing market share, the brand launched an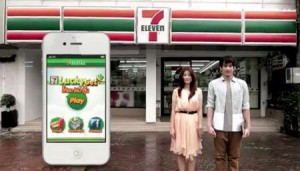 app that invites consumers to use when they hear one of its commercials. The app is able to pick up audio from its ads, with the user being rewarded points each time to do so. The points count toward the chance to win prizes, as well as a weekly giveaway of an Apple iPad.
Pluem: While the technology is interesting, I don't think that this execution was on strategy.  The game is fun, but how did it drive traffic into the stores and ultimately sales? The goal was to increase market share and this campaign does not address that.  I am curious to know how they promoted the app and the size of the ad campaign they had running at the time.  Was the market saturated enough for people to find the ads easily and play the game? I think the novelty of the game would wear off pretty quickly as well.
Click here to read the international story.