Blog: Shelton at the upfronts
Helena Shelton, EVP trading and accountability, PHD pans Fox's new comedies on day one of the upfronts.
Helena Shelton is EVP , trading and accountability, PHD and is attending the upfronts in New York City this week. Catch her blog posts all week on MiC as she dishes details on next season's new shows.
If the world has moved to digital then air travel is still in analog. Between cancelled flights, followed by delayed departures and gridlocked traffic into Manhattan, it was over six-and-a-half hours before I got to my hotel.  A minor meltdown, a few glasses of wine and dinner took the edge off.
Monday morning and fully recovered I was pumped and ready to see both the NBC and Fox presentations. I grabbed a coffee and the New York Times.  I was in luck, it featured a four-page section devoted to the upfronts, covering everything from talent costs, to migrating viewers, to the power of mass media. It also supplied a great summary of what is working and not working for each network.  What's at stake?  According to the Times, a battle for nearly $60 billion in advertising dollars. The battle ground?  According to me, New York City hot spots with glitzy presentations, stars and lots of hype!
After a stop at our NYC offices with the best prez in the world, Fred Forster, we were off to Radio City Music Hall for NBC! We got into line with hundreds of other ad exec's, grabbed a good seat and waited to be wowed.
NBC Chairman, Ted Harbert, called for better measurement, addressed their sports and news commitment and said they were programming 52 weeks of the year, not just the fall.
The focus at NBC was on comedies, even though their first new show slated for Monday night: Revolution, by JJ Abrams, about a world gone dark was a drama with a Lost feel to it. Next came Go On starring Mathew Perry as a sportscaster who goes for therapy after the loss of his wife.  The clips were funny, the audience laughed, but we are not sure how sustainable the premise for Go On is.
The New Normal, an obvious rip-off of Modern Family, follows a gay couple who are starting a family with the help of a surrogate. There was a fantastic rant in the pilot between the mothers of the gay couple and the surrogate that had Fred and I laughing out loud, not an easy accomplishment!
Animal Practice, a comedy with Weeds' Justin Kirk as a veterinarian who loves animals but not people was my favorite. His assistant,  Dr. Zaius, a capuchin monkey, was hilarious! I am a sucker for animals and I thought this comedy was fresh, funny and not a copy of an already proven formula. Back to the "if it works, why not do it again" theory of programming was the comedy Guys with Kids. Following three men, Jesse Bradford, Zach Cregger and Anthony Anderson and their lives, experiences and trials as dads.
From Law & Order's Dick Wolfe was Chicago Fire, an action drama following the lives of Chicago firemen and women. There was nothing new in this idea, remember Backdraft? Based on the numerous shots of fireman without  shirts we are pretty confident that this show will skew female.
The mid-season slate looked good.  The first three shows presented did not have pilots: Mockingbird Lane, a re-do of The Munsters , Hannibal, yes, about Hannibal Lector and Crossbones, the true story of Blackbeard. NBC did have clips for the mid-season comedy Save Me, starring Anne Heche as a woman who comes back after dying and finds God. 1600 Penn, about  the first family living in the White House with a harmless but useless son starring Josh Gad and Next Caller, a comedy starring comedian Dane Cook as an abrasive radio talk show host who gets a "goody good" partner.
Next a drama, Do No Harm about a Jekyll and Hyde doctor and finally Infamous, a primetime soap about a female detective who goes back to her ultra-rich friends to investigate the death of her friend (feels kind of Revenge like). The NBC presentation took two hours, a bit long-winded but we thought it was pretty good!
A few hours break for lunch and we were off for a very long and very scenic cab ride to the Beacon Theatre for the Fox Launch. I say long and scenic because President Obama was in town and most major roads were closed for security reasons, but we did make it in time, just!
Although the Fox presentation paraded all their stars, the actual presenters were pretty lifeless and some of their skits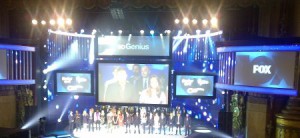 fell flat. The Fox mantra was "content is king" and it seems to have worked for them as they did not have a lot of programming holes to fill. We were only presented three new shows.
First was the comedy Ben & Kate about a brother and sister, Dakota Johnson and Nat Faxon who move in together and try to save each other.  I thought of my brother and I living together at this stage of our lives and really did not understand the humour.
The Mindy Project, following an OBGYN through her disastrous life and dates starring Mindy Kaling was not much better. Finally and equally disappointing was Goodwin Games, another comedy about a rich father who dies and leaves his three children a personalized version of Trivial Pursuit as a way to decide who gets his $23 million inheritance. None of Fox's new comedies were very funny.
For their mid-season Fox presented two very good dramas. Mob Doctor starring Jordana Spirio as a doctor who makes a deal with the mob to pay off her brothers debt by helping them with her doctoring skills. The clip looked very good.
The Following, starring Kevin Bacon was Fox's big announcement, their next 24.  The show is about a former FBI agent who is brought back to find an escaped serial killer played by James Purefoy (who was very convincing) and works with him to catch his followers. This pilot was excellent and got the most hype of all the shows that were seen. Monkeys aside, this pilot was by far the best!
I have to write that Britney Spears and Demi Lovato will be new judges on The X-Factor and were on stage. To my complete shock, when Britney came on stage, Fred was completely excited and star struck! The world of upfronts is a strange place.
The Fox upfront took just over an hour and we were back out on the street desperately trying to get a cab to get us to our dinner.
Tuesday is the ABC launch, the president is gone so getting around the city should be much easier!