Carte Blanche winners announced
Creatives from BBDO won first place in the English section of the contest for their wall and roof-less shelter, with Lg2 taking home the prize for the French portion.
On Wednesday night, BBDO art director, Alice Blastorah and copywriter, Neal Khosla went home with the Astral Carte Blanche for Creatives grand prize for its mock "Youth Without Shelter" campaign.
The two-person creative team drafted a transit shelter without glass walls and roofing. Beside a lone bench under falling snow stands a print ad with copy that reads, "At least you know your situation is temporary", making a statement on the conditions that homeless youth endure.
"This contest is popular with the creative community because it offers them the opportunity to push the envelope on the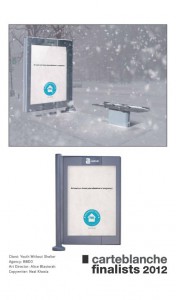 art of display, by allowing them to design an ad without a briefing or restrictions," says Nathalie Doré, marketing and media creativity VP, Astral OOH in a release.
"This year, the winning concept is a real logistic challenge for us, a challenge that we are ready to address," she adds, referring to the task of removing the roof and walls from the shelter to bring light to the situation.
In total, 120 original concepts were submitted to Astral OOH for the chance to win tickets to Cannes to attend the Lions International Advertising Festival. The "Youth Without Shelter" campaign is a part of the English Transit Shelter section of the contest and will be featured in an outdoor campaign on the Astral Outdoor network in Toronto.
Geneviève Jannelle and Geneviève Langlois from Lg2 were awarded the grand prize last week for their print ad for Sears in the French section of the contest.