Spotted! WestJet brings a taste of New York to Toronto
Ambassadors dressed as the Statue of Liberty and King Kong were seen on the streets this morning handing out flight tickets to NYC.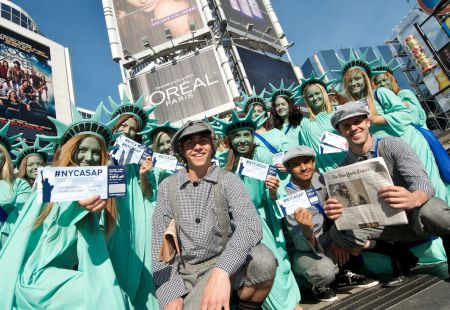 Some 150 Toronto pedestrians were flying high this morning when WestJet stopped them in their tracks to hand over "boarding passes" that prized them with a free round-trip flight between Toronto and New York.
Another 23,000 scratch-to-win tickets included 20% discounts on flights to the Big Apple.
Several locations were dotted with brand ambassadors dressed as the Statue of Liberty and King Kong, handing out contest tickets to unsuspecting Torontonians. The stunt was executed by Mosaic in celebration of WestJet's seven new non-stop flights that happen each day between Toronto's Pearson airport and New York City's LaGuardia airport.
"WestJet is known as being a fun and friendly brand, and this activation is an example of that," Robert Palmer, manager, public relations, WestJet, tells MiC.
To create awareness of the new route, WestJet worked with Media Experts on a media campaign that launched in April and will continue into June. Creative was spearheaded by Publicis, with the print elements handled by WestJet's in-house marketing team.
Online ads have been seen on sites geo-targeted to Toronto, Montreal and Ottawa as well as print ads in the Toronto Star's Special Report section, alongside its editorial content on New York, as well as on the cover and centerfold of the Metro daily today.
In addition, radio spots are airing on Virgin Radio Toronto, Q107 and CHFI, and the brand has also partnered with Sportsnet to place creative (produced in-house) on its radio, TV and digital platforms. The brand has also dominated Toronto with outdoor murals, subway car wraps and transit shelter advertising.