Couch Critics: Last Resort and Elementary
The team at Denneboom and Bensimon Byrne's Max Valiquette dissect Global's new Thursday night dramas.
MiC's TV-mad contributors are back to review Global's new Thursday night dramas, and place their bets on which will have staying power.
Reviewing Global's Last Resort and Elementary is the team at Denneboom: VP of marketing and media Leslie Krueger, media analyst Kayla Landen and VP and senior media advisor Lauralea Mast, as well as Max Valiquette, managing director, strategy at Bensimon Byrne.
Last Resort (Thursday at 8 p.m. on Global):
Denneboom: If you missed the premiere of Last Resort all we can do is wish you good luck catching up. During the 44-minute pilot we were introduced to at least 44 characters. (Thankfully, and perhaps intentionally, many characters had their name and rank embroidered on their uniforms).
The fast, almost frenetic pace made it impossible to move from the TV for fear of missing the introduction of a new character or a key piece of the puzzle. The writing was pragmatic and efficient. There was little dialogue between characters that was longer than two sentences. Like a captain on a bridge, every word spoken was designed to steer the ship, or in this case a complicated storyline.
Last Resort is a far cry from the usual softer ABC dramas (Grey's Anatomy, Castle, Private Practice) and a good addition to the Global lineup, although the audience is going to have to search for this action thriller as it is oddly sandwiched between Entertainment Tonight Canada and Glee.  We classified it as cinematic popcorn-worthy television – a direct and clean hit.
Valiquette: Last Resort was last used as a title for a National Lampoon movie; now it's the title of exactly the opposite – a show about a US nuclear submarine crew that is ordered to fire upon Pakistan. The crew refuses, takes up residence on an island and threatens to fire one of their nukes at anyone who encroaches on their position. So, you know, a little light comedy. This is without a doubt both the most ambitious and the most confusing pilot of the season, and it feels strangely out of place on Thursday nights. The actors (especially the almost-superhuman Andre Braugher) are great, and the showrunner is Shawn Ryan, who created The Shield. All of that is extremely promising – but I can't help feeling like subject matter is too dark and the plot contrivances are too confusing. By the end of this season, you'll have seen the last of…well, you know.
Odds of survival? Split down the middle.
Elementary (Thursday at 10 p.m. on Global):
Denneboom: Yes it is Elementary dear Watson,  and despite it being modern day New York with a very hot Dr. Watson ( female and Lucy Liu)  this is a Sherlock Holmes show that Arthur Conan Doyle would be proud of. Yes, it's just a crime procedural but with a British accent and many plot twists. What is the secret Dr. Watson hides that now makes her, once  a surgeon, a babysitter of grownups?  Why is Holmes banished to New York?  And will the tension between them grow?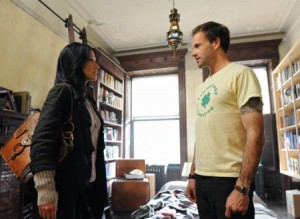 All wrapped up in a fast paced murder mystery hour that goes by as fast as Holmes' dialogue. Sure to be around for the full season.
Valiquette: Much more promising is Elementary, the third Sherlock Holmes reboot of the past few years (after the acceptable Robert Downey Jr. movies and the amazing BBC series Sherlock). I should be bored by them at this point, but this one is very cleverly put together. Our Sherlock (Jonny Lee Miller) is a recovering addict living in modern-day Brooklyn (hopefully we'll never have to endure "The Case of the Missing Hipster") and his Watson (Lucy Liu) is a woman, and his sponsor. The addict-sponsor relationship creates a strong, believable tie between the two of them, but even without it there's a buoyant sense of chemistry between the two leads that carries the show along. There's also pretty much no competition in this timeslot. It doesn't take a master detective to figure out that Elementary will be around for a full season.
Odds of survival? No mystery here, critics call for a full season.