RBC steps up to the top: Media Monitors
The bank made its move to the #1 spot in both Toronto and Montreal for the week of Oct. 8 to 14.
RBC grabbed the top radio spot in Toronto and Montreal, up from the previous week's #2 position in both markets, according to the Media Monitors chart for the week of Oct. 8 to 14.
In the English market, Chevrolet also moved up one place to #2 and gas co Esso stepped up from the #5 spot to #3 for the week.
The Government of Canada entered the list at #5, as did Sears at #10, and a larger-than-usual purchase was seen by The Bay, jumping up from #24 to #4 on the list.
In Montreal, CTV Two landed in second place (up from #6) and The Bay made a considerable radio buy grabbing the third place position on the radio chart (up from #28).
Another noteworthy move was made by Société de transport de Montréal as it jumped from #15 to #7 and the Government of Canada made an appearance on the French region list at #6, while Sears debuted at #9.
Toronto
By brand
By category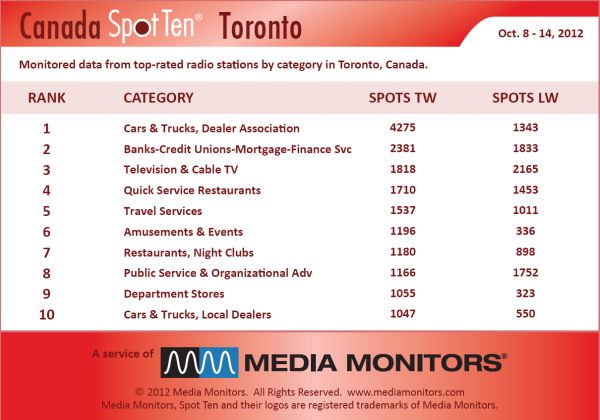 Montreal
By brand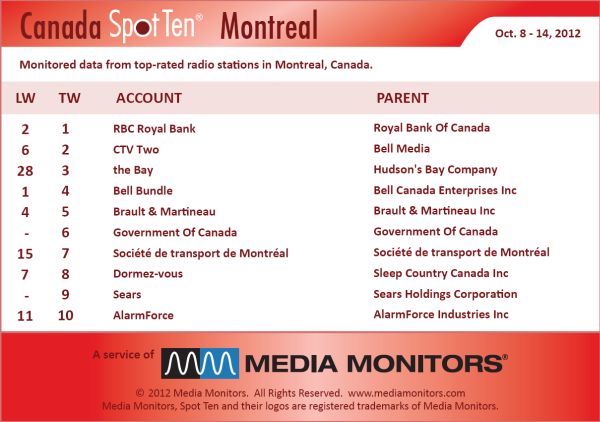 By category