KFC weeps man tears online
Instagram and Facebook are the focus of the YUM! Restaurant brand's latest television campaign that targets a young male crowd.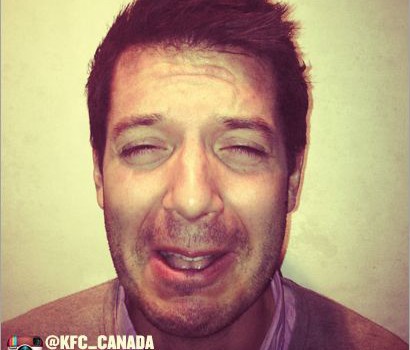 It all started in South Africa, where KFC first launched an ad featuring a man who cries while eating a spicy Zinger burger. Not your ordinary tears though. They're what the brand has dubbed "man tears" and are an important ingredient in its "man-up" campaign that targets men in their early 20s and 30s.
The original commercial, placed by MediaCom to air during shows such as Two and a Half Men, Dragons' Den and Flashpoint, has been modified by Grip Limited to include #mantears. The hashtag already exists on Twitter with over 250,000 references around generic conversations, but KFC saw the opportunity to brand it as its own, Eric Vieira, director, business, Grip Limited, tells MiC.
The tag is now being used as a call to action, he says, asking viewers to tweet an Instagram image of themselves (with their man tears expression) for the chance to be featured on its Facebook page. Since launching over two weeks ago, the brand owns nearly 10% (or 24,500 tweets) of the man tears conversation on the social platform, notes Vieira, with users also tweeting the hashtag in reference to the brand and its meal offering.
"We looked at the social footprint of man tears as a hashtag and how it was represented," he adds. "We saw that we could own that and proposed that we take the [initial TV] spot one step further by engaging the viewer and interjecting the conversation that was already happening around man tears."
This cross-pollination of content between Instagram and Facebook is a first for the YUM! Restaurants-owned brand, he says, further explaining that KFC, in the past, has reached out to a younger male audience through promotion of its value offerings during meal times, and only through traditional media. The idea is to eventually have the images highlighted in print, digital, OOH and other mass media, says Vieira, adding that "if this gets a ton of traction and people feel the reward and connect to the strategy that we have, then we can scale it to be larger and really showcase the engagement [through placement in other media]."