Pattison tweets city love with Spacing
The OOH company is kicking off a national program with the magazine, which asks Canadians to share feelings about their city in a public space.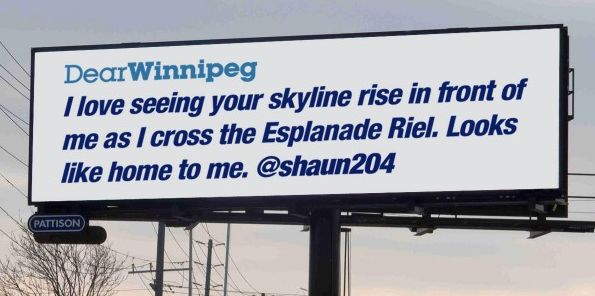 Got something to say to your city? Pattison and Spacing magazine are giving Canadians a platform to express their feelings in 140 characters or less, asking them to tweet to their city to the @DearCityCanada Twitter account, with the acceptable tweets displayed on digital billboards this July and August.
Billboards in Vancouver, Surrey, Pitt Meadows, Surrey, Calgary, Edmonton, Regina, Winnipeg, Sudbury, Kitchener, Hamilton, Toronto, Peterborough, Kingston, Ottawa, Montreal, Quebec City, Moncton and Halifax will display the messages on at least one sign per city, Sharon Switzer, arts programmer and curator, Pattison Onestop, tells MiC.
Switzer says she approached Spacing to partner on the project because she wanted to launch a national arts program and the mandate of the urban-focused title made for a great fit.
"I think there is no end to the importance of these programs," says Switzer. "They give back to the community, allow for more spaces that showcase public art. It gets people looking at the screens and it is Pattison's chance to support art and culture in the country."
In addition to displaying the Twitter-sized letters on digital billboards, Pattison will also display the messages on the media co's 300 screens in more than 42 malls across the country for two weeks in June. Pieces for all cities will be displayed in the malls, so Canadians can see what people are saying to other cities in addition to their own.
People can submit letters to @DearCityCanada until June 1.