Spotted! Magnum serves up pleasure
The Unilever-owned ice cream brand has opened its first-ever pop-up store in North America that allows visitors to create a custom Magnum ice cream bar.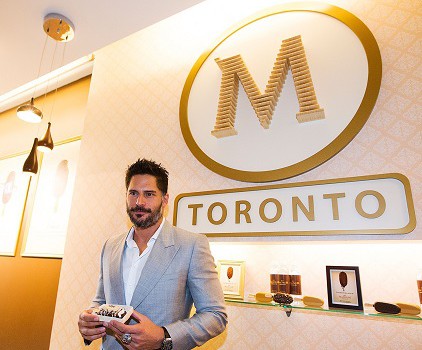 Magnum, the Unilever ice cream brand, is giving passersby in Toronto's Yorkville neighbourhood a taste of decadence with the opening of its first-ever Magnum Pleasure pop-up store in North America,
Located at 11 Bloor St. W, Magnum's global brand team conceived the idea, which includes stores in other major markets, such as London, Paris and Istanbul, among others, and was adapted for the Canadian market.
The store launched with help from Mosaic, and targets adults over the age of 20. Toronto's Ogilvy is handling creative and social media.
For $6, visitors can choose a vanilla or chocolate ice cream bar, and dip it in milk, dark or white chocolate coating. They can also select from a variety of toppings, including maple fudge, crushed popcorn, honeycomb and chilli peppers.
The launch of pop-up store was supported by a media event last Thursday that included a performance by Cirque du Soleil and an appearance by brand spokesperson, actor Joe Manganiello. The brand is also relying on social media, leveraging the Twitter hashtag "#mymagnum," and appearances by other guests, including Top Chef Canada's Mark McEwan.
Charlie Clark, brand building manager, Unilever, tells MiC that the Magnum Pleasure store is part of the brand's strategy to create unique, in-depth consumer experiences around its brand position of pleasure indulgence.
He says it also offered the opportunity to create an experience that would be more socially engaging by encouraging visitors to the store to share their creations.
The store will be open to until the end of July.