Scotiabank's expanded NHL play
Duncan Hannay, SVP and head of marketing at the financial services company tells MiC about how the brand plans to break out of the crowded hockey market this season.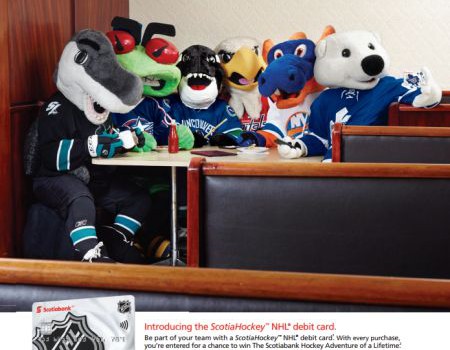 NHL hockey is back and Duncan Hannay, SVP and head of marketing at Scotiabank, tells MiC the two major differences for the brand this year in terms of its involvement with the sport are the fact that teams are playing a full season and that the company has launched the ScotiaHockey NHL debit card.
"Hockey is our largest commercial sponsorship. We are the official bank of the NHL and that is what allows us to use all of the team marks throughout our campaign and on the new Scotiabank debit cards," he says.
The cards are available to fans of the sport emblazoned with one of 30 NHL team logos on the front. Hannay says the main draw for the card is that each time people use the cards, they are entered to win hockey-related prizes, with monthly draws for NHL merchandise and grand prizes for things like trips to the Stanley Cup Finals.
With media from PHD and creative from Bensimon Byrne, the new cards are being promoted with a multi-platform campaign showcasing six NHL mascots in a 30-second TV spot, eight online webisodes and print and OOH ads.
"We recognize that the Canadian hockey and advertising space is fairly crowded with all stakeholders jostling for position," says Hannay. "So we were really looking for something that could support our business objectives of building primary customer relationships with new and current customers alike, but also to do something that hadn't been done in hockey before to break through the clutter."
In addition to the launch of the ScotiaHockey NHL debit card, the bank is also sponsoring Scotiabank Hockey Day in Canada, Scotiabank Girls Hockey Fest, Scotiabank Wednesday night hockey on TSN and is now the official sponsor of theScore's in-app hockey coverage for the season.