Mondelez joins team Canada
The COC's executive director of partnerships, Alyson Walker, talks about the company's first Olympic sponsorship, which includes integration on the CBC and an interactive app.
With the 2014 Sochi Winter Games quickly approaching, Mondelez is the latest company to sign on as an official sponsor of the Canadian Olympic Committee.
Leveraging brands like Oreo, Ritz Crackers and Chips Ahoy!, the company is now the committee's partner in the biscuits, crackers, confectionary and chocolate category, replacing Wrigley/Mars, which covered the gum and chocolate categories for the 2010 Vancouver Winter Olympic Games and 2012 London Summer Olympic Games.
A first for Mondelez, the partnership will see it activate around the themes of pride and joy. It will leverage its brands in-store through point-of-sale activations, and has also created personalized packaging and products, which it has sent out to Olympic athletes, including Denny Morrison, Dylan Moscovitch, Kelsey Serwa (pictured), and others.
Working with media agencies MediaVest and Jungle Media and creative shop The Hive, Mondelez has also created two animated characters named Pride and Joy who will brings its Olympic campaign to life across multiple platforms, including social media, through dances and cheers in real-time.
Additionally, Mondelez has partnered with the CBC and will be integrated into broadcasts of medal ceremonies through animations that feature its Pride and Joy characters and that are tied to the specific events.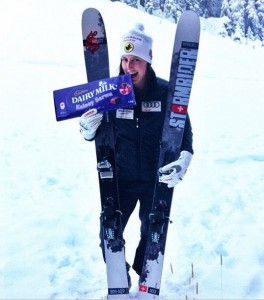 The Pride and Joy characters will also feature heavily in Mondelez's Pride and Joy app, which will launch for Android and Apple devices in January. The interactive app will alert users in real-time to exciting moments during the Games, with each moment offering users an opportunity to enter for a chance to win prizes, including a grand prize trip to the Men's gold medal hockey final.
Alyson Walker, executive director of partnerships, Canadian Olympic Committee, tells MiC that Mondelez was selected as a partner of the COC because of its multi-platform approach to activating against the Canadian Olympic brand.
She says Mondelez's approach is unique because it makes heavier use of digital and social, leveraging and supporting athletes who are fans of its brands getting them to promote the brands through their own social channels.
Walker says the COC is always looking for new partners, adding that it will likely make a couple more announcements before the holidays.
Mondelez's partnership will last through the 2016 Rio Summer Olympic Games.