Getting digital with the heads of Canada's newspapers
Representatives from the Globe, Toronto Star, La Presse and Postmedia all shared statistics at the Canadian Journalism Foundation's event Thursday.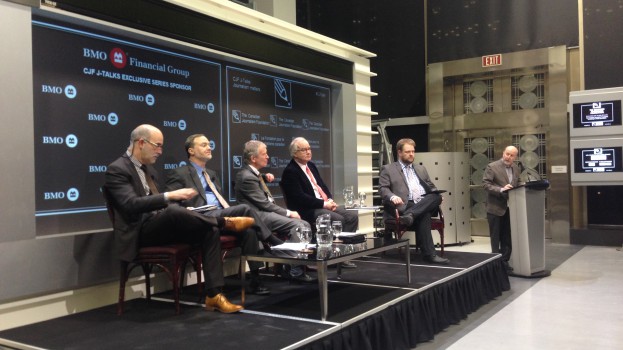 The Globe and Mail has attracted 110,000 subscribers to Globe Unlimited, including 55,000 digital-only subscribers, since launching in October 2012, Phillip Crawley, publisher, the Globe and Mail, told a packed house at the Canadian Journalism Foundation's latest J-Talk. That's up from 80,000 the paper reported in February 2013. While the digital subscription model hasn't been the silver bullet the Canadian newspaper industry was hoping it might be, Crawley says the paper has gained valuable insight from the introduction of the paywall, like, for example, that business content has proven to retain more subscribers than other sections of the newspaper. Crawley says that paid subscribers are also more engaged than other readers, something that appeals to advertisers.
Representatives from four major newspapers shared statistical insights at the event  moderated by Joshua Benton, director, Nieman Journalism Lab at Harvard University, Thursday night in Toronto.
John Cruickshank, publisher, Toronto Star, told the crowd that while it was still too soon to release digital subscriber numbers for the Star, overall, the paper's revenue structure had shifted from roughly 75% advertising and 25% circulation to something much closer to 50/50. Cruickshank pointed out that while overall advertising revenue has dropped, Torstar has seen ad revenue growth in its Metro commuter papers. Cruickshank credits that growth to tapping into a new audience that wasn't necessarily reading newspapers before.
Gerry Nott, senior vice-president of the eastern region, Postmedia Network/National Post, shared that Postmedia has garnered 137,000 all-access subscribers and 45,000 digital-only subscribers across its newspaper network. Nott said as much as 58% of Postmedia's traffic comes from mobile users and points to video as an area of growth. The survival of the newspaper industry will depend on identifying audiences on all platforms and tailoring products to those audiences, said Nott, stressing that no single platform can survive without the support of the others.
André Pratte, editorial pages editor, La Presse, shared details about the French newspaper's tablet focused product. The app has been downloaded by 400,000 different tablets and reaches 120,000 daily readers. La Presse's digital push is aimed at attracting a new generation of newspaper readers who, Pratte said, are unlikely to pay for content online and need to be engaged with a new daily news ritual.
When asked about new areas of opportunity for newspaper revenue growth, Crawley pointed to the Telegraph in London, who, much to the chagrin of its aggressively digital competitors at The Guardian, has raised profits by staging conferences and hosting events like the Telegraph Cruise Show and the London Boat Show.