Media reaction to TimsTV
Julie Myers of ZenithOptimedia Canada, Tammy Gardner of Touche Media and Kevin Johnson of Havas Media Canada share their thoughts on Tim Hortons's new video network.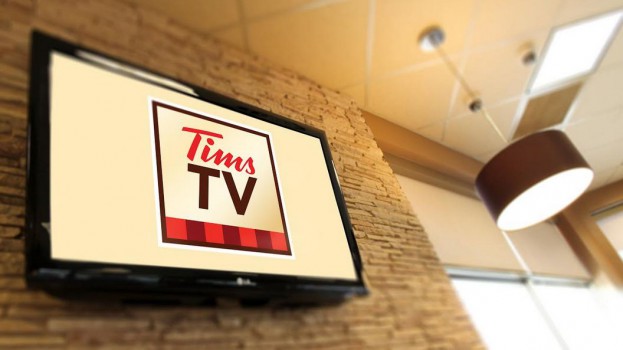 Recently Tim Hortons announced it would be launching TimsTV across the country in late February, launching in 2,200 existing locations and adding the screens to most new restaurants being constructed. The digital video display network is to be produced and sold by Cineplex Digital Networks and feature content about the restaurant, news, weather and entertainment.
Tim Hortons is not the first quick serve restaurant to introduce such a network in Canada; Pizza Pizza partnered with Rogers Digital Network Solutions to launch its own in-store video network, Pizza Pizza TV, in 2008 in over 200 restaurants across southern Ontario (that number has dropped since the launch, with 130 restaurants switching from PPTV to traditional cable). But Tim Hortons strong brand awareness and reach has captured the attention of marketers across the country.
MiC reached out to members of the media industry to weigh in with their thoughts on TimsTV and expanding digital out of home opportunities.
Julie Myers, president, ZenithOptimedia:
We're definitely interested in it because Tim Hortons has got a very loyal audience and traffic – the Timmies people. That's where you're going to get the loyal users, families, quite a breadth [of audience].
I would need to understand where the screens are placed within the store. If it's just overhead at the checkout it could be a bit of a challenge to break through because they are so many other visuals. If they have a couple of placements within each store and they're unified with the same creative on each screen [that would be preferable].
How are they going to price it, can there be a call to action, is there cross promotions, how will they be measured – whether that's through COMB (Canadian Out of Home Measurement Bureau) or some other methodology? All of those will be important to be identified.
This is being managed and sold by Cineplex Group, and they know their stuff, so I've got a lot of confidence and expectation there.
Tammy Gardner, group account director, Touché Media:
The ability to geo-target and time stamp messaging is awesome and adds a new layer to client communications. When you think about the amount of time people typically spend within Tims – whether it be in line or to sit and have a meal – there are multiple opportunities to connect with customers. Relevancy of the message within this platform I think is important and I don't think all brands would benefit from it. For example, banks [or] credit cards would be great as that's the method of transaction and connects to in-store behaviour. TimsTV also shows you how brands are evolving and instead of just being destinations, they are now being used as platforms for advertising.
Kevin Johnson, SVP, managing director, Havas Media Canada:
For the last few years we've been seeing the increase of digital OOH inventory. Generally more inventory is a good thing. With Tim Hortons being so prevalent and popular among Canadians, it offers advertisers and agencies another pool of audience to grab onto.
The audience is of benefit because it's so broad, it's virtually a cross-section. It covers all different targets: men, women, young and old.
Typically when new opportunities come out you want to go through that phase where you're checking them out in the stage of infancy. With Tim Hortons being so established, that is minimized. Nevertheless, we're still going to want to see the audience numbers, the traffic that's coming in and any research that they can do about the people that are coming in. Anything about that consumer and how they're interacting with that screen would be helpful to us in terms of how we rationalize using the medium to our clients, as well as understanding that we're using it at the right time and at the right place.
This opportunity will be wrapped up with Cineplex's other digital OOH opportunities — the resto networks, the fitness networks — and it will compete against those companies as well. I'm actually surprised that Tim Hortons didn't do this earlier, because the audience was there. But Tim Hortons is now retrofitting some of its existing locations for more of a dine-in feel. It's definitely going to be more of a captive audience, I think, versus just standing in a line waiting for a cup of coffee.
The reason DOOH is so popular, typically, is because we can put in creative during segments of the day and make it time specific. Having a 15- or 30-second spot is great, but if there are opportunities to wrap yourself around the content, in any way, shape or form, that's something we're always looking for. We don't just want space, we want a connection and to be doing something different. Can we drive consumers from the screen to mobile, for example? How can we allow them to interact with our spot?
MiC contacted Cineplex to inquire about prices, measurement and cross-promotion opportunities. A spokesperson said the company would announce details about these questions in the near future.
Interviews have been edited for length and clarity.