Next generation wearables, privacy and drones at SXSWi: blog
Jodi Brown, director of content at Mediacom, dissects the first days of the festival, with notes on the top trends and activations, from line-holders to the return of Grumpy Cat.
Jodi Brown, director of content at Mediacom, is in Austin this week taking in SXSW. From drones to the next generation of wearable tech, Brown dissects the start of the festival for MiC.
After a jam-packed weekend at my fifth SXSW I am once again left slightly dizzy from the sheer magnitude of activity and ideas.
Only at SXSW Interactive, where over 30,000 attendees descend upon the small city of Austin, Texas, will you find yourself taking a selfie with the real Grumpy Cat one moment and the next be in a session conducted over Skype with fugitive Wikileaks founder Julian Assange.
There's no way to see and do everything but you can tell from the buzz at the end of each day what new themes are emerging, and moreover how themes from previous years are evolving.  Here are a few….
The next evolution of wearables: For wearable tech, the conversation turned from function to design this year, with the belief that wearables won't become mainstream until interfaces become less intrusive (yes, I'm talking to you Google about 1st generation Glass, but good for you for evolving before releasing to the public).
And while we've seen how wearables can elevate personal fitness and training (Nike+ FuelBand, Jawbone UP and Fitbit) and give a whole new dimension to sports (with the likes of the PGA and NBA encouraging professional athletes to use Google Glass to give fans an unprecedented first-person view of the action), we need to find other use cases for wearables based on the same principles.  How can we track your physical responses around other things that are important to you (like happiness, efficiency and productivity)?
It was also agreed that how wearables touch entertainment will strongly impact their speed of mainstream adoption. For now however, wearables are at least extremely popular with early adopters, with nearly half of a room of 500 conference attendees raising their hands in response to the question "who has wearable tech on right now?"
Robot in the house: This year robotics and AI moved from labs to living rooms. Personally, I'm pretty excited to hear that soon, when I'm running low on milk, my fridge will tell my car to tell me to go to the store. Drones and their use in government, commerce and sports was also a hot robotics topic. Amazon has already announced that it plans to use drones as delivery-bots and here at SXSW I've been exposed to many amazing examples of how drones in sports are capturing feats of athleticism from perspectives never before seen.
Privacy please: On a heavier note, after years of celebrating the upside of information sharing and big data collection at SXSW, privacy is a major theme at the conference this year with a decidedly serious tone. From Julian Assange talking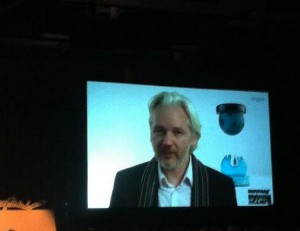 about government surveillance and the militarization of our online civilian space to Google's Eric Schmidt taking the stage with stories of war lords spoofing social accounts to lead people into danger zones, while his colleague Jared Cohen's shared the personal account of a friend who was shot on site for a post in his news feed (written by someone else) while at a Syrian checkpoint after officials forced him to hand over his phone and log in to Facebook.
From a personal perspective, these were hard realities to listen to. From a marketing perspective, I also saw how a focus on privacy and movement away from information permanence may change how we communicate as brands. There is a lot of talk about the growing popularity of Snapchat and other apps that help maintain privacy (and in some cases anonymity) like Secret.ly, Wickr, and Confide. The trend towards disposable/dissolving/self-destructing media as it is alternatively called, has implications for how brands grab consumer attention. A message (or blog post, or video, or offer, etc.) that requires a person's attention right away or it's gone forever can be a real game changer in the content and marketing space.
SXSWi activations:
And speaking of attention-getting, no SXSW round-up would be complete without mentioning the influencer marketing that keeps getting better every year as dozens of startups vie to grab your attention at the conference that launched Twitter in 2007, and the big brands flex their creative muscles. Some of the highlights for me so far have been:
The trend of memes coming to life at SXSWi started last year with the live Grumpy Cat appearance at Mashable House last year. This year, Grumpy Cat was back (that cat is adorable in real life) and joined by Doge and Miley Cyrus's Wrecking Ball. Meanwhile over at the Courtyard Marriot, you could get your photo alongside the now-six-year-old-and-still-fist-pumping Success Kid.
Samsung returned with the very popular pop-up blogger lounge that has completely transformed a local restaurant near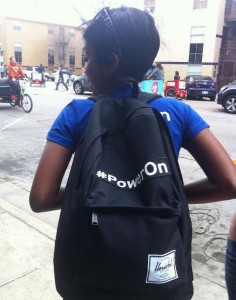 the Austin Convention Center and built the Samsung Experience House, featuring live celebrity appearances, performances and free food and drink alongside product demos, but what has really wowed me is their roaming crew that comes to you anywhere in Austin and exchanges your drained Samsung battery with a brand new one anytime you tweet #poweron and your location. Non-Samsung owners like me are jealous and people are buzzing.
Pennzoil and Nintendo are letting festival-goers get behind the wheel of a Mario Kart inspired go-kart to drive over Mario Kart 8 and Pennzoil icons for real world power-ups.
A&E has built a highly popular backdrop for selfie-taking this year with a Bates Motel replica around the corner from the convention centre to promote the new season of the show.
And although it's hard to choose a favourite among all the crazy outfits and creative giveaways the startups come up with to promote themselves, I have especially liked the effort of the app startup, PPLConnect that is sending brand ambassadors – equipped with backpack flag signs that stand out in the crowd – to stand in line for you (the lines that snake around city blocks to get in anywhere worth getting into at SXSW are legendary and standing in line sucks).
So with that, I head off into day four for more lineups, more inspiration, and undoubtedly more fish tacos.