Wendy's Canada to launch web series
"Girlfriends at Wendy's Eating Salad and Talking About Stuff" debuts March 24 and is promoted in partnership with CTV's The Social.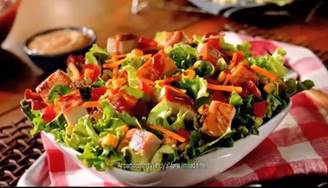 Wendy's Canada is launching a web series as part of a media buy to promote a new line of salads. The series is called "Girlfriends at Wendy's Eating Salad & Talking About Stuff" and will feature women discussing topics like dating, relationships, fitness and fashion over salads and will be set inside a Wendy's restaurant.
With media by M2 Universal and creative by MacLaren McCann, the series debuts March 24 and will be hosted on Wendy's Canada's Facebook and YouTube pages.
Dave Stubbs, VP, group creative director, MacLaren McCann, tells MiC that the decision to go with a web series was inspired by previous web activations Wendy's Canada had executed around the launch of the Pretzel Bacon Cheeseburger that involved Canadian magicians performing for Wendy's customers as they enjoyed their meals. The amount of engagement around that campaign on Facebook and YouTube encouraged the brand to create this fleshed out web series concept to reach its target audience for salads, which is women aged 25 to 40.
Robin LeGassicke, VP, client business partner, M2 Universal, says there will still be other media to support the new menu launch items, which include an Asian Cashew Chicken Salad and BBQ Ranch Chicken Salad. The series will complement 15- and 30-second national TV spots to run from March 17 to May 11, as well as a 30-second radio spot to run in BC from April 21 to May 11. The web series is being promoted with paid support on Facebook and YouTube.
Wendy's is also partnering with CTV's The Social and will become the daytime talk show's official "lunch date." The hosts discuss various hot topics of the day while eating Wendy's salads, driving viewers to Wendy's Facebook page. Running March 24 to April 18, the partnership with The Social extends to a co-branded 30-second TV spot and 20-second in-show bumpers.