Olive Media reorganizes
The digital marketing firm has named three new VPs and realigned its product offerings into tiers focused on publisher brands, audience and its programmatic platform.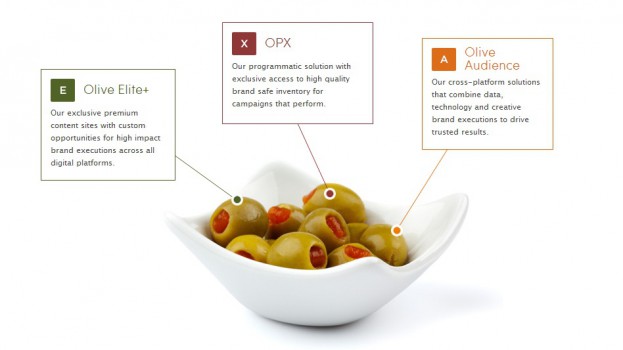 Olive Media has announced a major reorganization, naming three new VPs and a realigned product offering.
Karen Wang has assumed the role of VP sales following Kristie Painting's departure in November, while Shannan LaMorre is appointed VP Olive Elite+ and Ray Philipose becomes VP Olive Audience, both new positions created to coincide with the reorganized suite of solutions from the digital marketing firm. All three individuals move up from within the organization.
The announcement comes on the heels of the news earlier this month that Theresa Smith would take over the role as president, the first to be named at the firm since Simon Jennings left in 2011.
Smith tells MiC that the reorganization comes as a response to the way marketers' approach to media has evolved and changes in the market over the last year, as well as an effort to unify an increasingly broad offering the firm has developed since its launch eight years ago. "There are a number of new entrants in the Canadian marketplace that weren't here 12 to 18 months ago," she says. "What was really important for us was creating clarity and focus, both internally and externally."
Olive Elite+, an update of the firm's existing Olive Elite offering, is about leveraging the brand voices of the marquee publications Olive represents in Canada including Nytimes.com, Thestar.com, Lapresse.ca, Allrecipes.com and Caranddriver.com. "When advertisers are looking at those brands, there is something very specific about the brand that attracts them to that particular outlet," she says, adding that the updated offering includes desktop, mobile, video, data and native coupled together instead of siloed as separate offerings.
Olive Audience, on the other hand, focuses on reaching a targeted audience across that same range of digital platforms, regardless of publisher voice, as long as the inventory is trustworthy, says Smith. Whereas Olive Elite+ differentiates itself in the market because of the legacy brands it represents exclusively, Olive Audience is designed to compete with more of the new entrants in the digital marketing space, says Smith. Olive Media will also offer OPX, the Olive Private Exchange programmatic platform.
Smith says the the digital marketing landscape has matured to the point that publisher brand-centric  inventory and audience-centric inventory require different selling techniques. "When you're selling a brand, you really need to understand that brand's DNA and that's a different way of selling or buying an audience than one that is not about a brand," she says.