Details on the Canadian Tire Corporation's deal with TSN
Nathalie Cook, VP of sales and brand partnerships at TSN and CTC's Duncan Fulton on the monumental deal.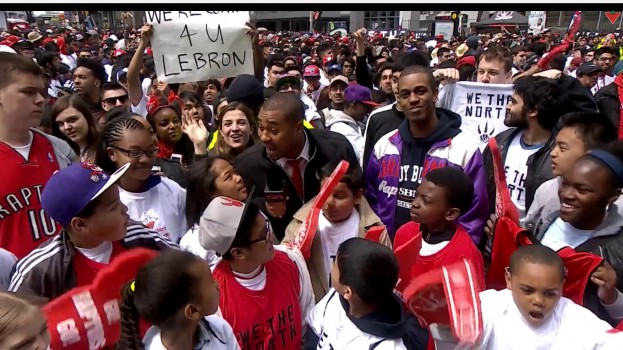 TSN has signed a three-year content development deal with Canadian Tire Corporation (CTC) that will see the sports network's in-house production team delivering digital video for the iconic brand.
The agreement goes beyond a traditional advertising partnership, and in terms of the scope and scale is monumental for the Bell Media-owned broadcaster. Content-driven deals are what brand clients have been demanding lately, and TSN is in a good position to take advantage of its resources and access to premiere sports events to deliver, says Nathalie Cook, VP of sales and brand partnerships at TSN.
Cook wouldn't comment on financial details, however she says the model is "a combination of a lot of things. It's not a straightforward linear piece because some of the properties are quite premiere – World Juniors, Grey Cup, FIFA World Cup, Women's World Cup."
"I think a big part of this is they're leveraging some of the larger properties that are going to be in Canada over the next little while," says Cook.
Duncan Fulton, SVP of communications and corporate affairs, Canadian Tire Corporation and CMO, FGL Sports and Mark's says that the deal came together at the start of the year when his team met with Bell Media to discuss options around adding more sports content to its advertising slate. He says the conversation quickly turned from 30-second spots to a more comprehensive custom content plan.
He adds the deal with TSN doesn't mean CTC won't be working with other sports properties, like Rogers Media around the NHL and Hockey Night in Canada, adding that the partnership is not making up the majority share of its ad budget for the next three years.
There is no set number of productions TSN has to create for CTC (which also owns retailers like Mark's, Sport Chek, Hockey Experts and National Sports), as the intention is to stay nimble and take advantage of opportunities as they arise. "There is some content that very clearly resides in the social space and is much better suited to shorter form; but on the other hand there are times when a full documentary is really the appropriate thing to do," Cook says.
As an example of a recent collaboration, Cook references a video TSN made (check it out below) for Canadian Tire's Jumpstart charity during Game Seven of the Raptors vs. Nets playoff series earlier this month.
"We got a call on late Friday night saying, 'Hey, I know it's totally last-minute but we are going to be sending some children who participate in the Jumpstart program to see Game Seven.' And we said, 'You know what? That's a really compelling story.'"
So TSN shot the kids arriving to Maple Leaf Square (dubbed "Jurassic Park" during the series), they had Sportscentre host Cabbie Richards interview the youths (pictured), and during the game TSN talent discussed the program and how viewers can get involved. By half-time, they had a two-minute clip posted on TSN's BarDown.com.
"That content is evergreen for them now, they can use it at Jumpstart meetings, wherever they want," Cook says.
As part of the deal announced Tuesday, original content developed will have exclusive distribution through TSN's five broadcast channels in English-speaking Canada and the three RDS TV stations in Quebec. The videos will also be distributed digitally on TSN.ca, TSN GO, and TSN BarDown at BarDown.com, RDS.ca, and RDS GO.
In terms of how long it took to make the deal, it was not a short dance, jokes Cook, adding that Canadian Tire's Montreal-based media agency Touche! and president Karine Courtemanche helped facilitate the agreement between the companies.
From Stream Daily, with files from Val Maloney