Spotted! CBC's soccer experience at the Eaton Centre
The broadcaster is bringing giant video walls and soccer-themed activities to the Toronto mall so fans can watch the FIFA World Cup together.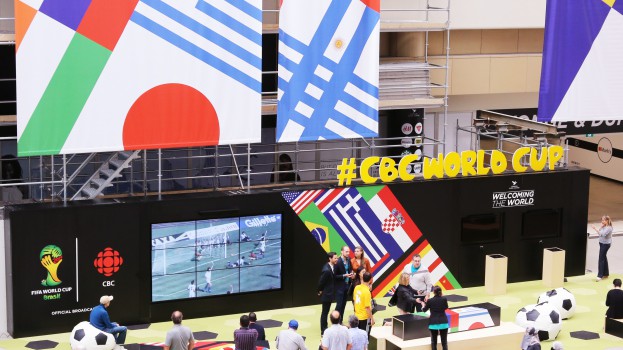 The CBC is giving FIFA World Cup fans a chance to come together and show their team spirit in Toronto's Eaton Centre.
In time for the first match of the tournament this afternoon, three viewing lounges have been set up in the shopping hub: one in the Urban Eatery food court, one on the third floor Queen Street tunnel and a flagship location at Trinity Way. The flagship lounge features an expanded decor, with banners displaying the participating nations' flags hanging from the ceiling and soccer-ball shaped chairs. There is also a host of soccer-themed activities, from demonstrations hosted by the Canadian Soccer Association to face painting to a videogame booth where fans can play 2014 FIFA World Cup Brazil on PlayStation 3.
The World Cup viewing lounges come after CBC hosted similar areas at the Eaton Centre for the Winter Olympics in February.
"We recognized how appealing the Olympics lounges were and wanted to embrace that and build on that success," Meredith Vlitas, senior marketing director for Toronto Eaton Centre, tells MiC. "The experience itself has been heightened. It's just a fun atmosphere."
A larger, 10-foot video wall ensures that any fan that wants to will be able to watch CBC's broadcast of the World Cup matches. The lounges have also been expanded to accommodate more people, with the Trinity Way lounge also providing free Wi-Fi and mobile charging stations.
The Eaton Centre sees approximately one million visitors every week, which span an array of people just as broad as soccer's fan base.
"We are in the heart of downtown Toronto, which is such a multicultural city. We see it as a way for all Canadians to get together and enjoy the World Cup," says Vlitas.
CBC has also partnered with CIBC for Soccer Nation. Starting this weekend in Vancouver, the travelling party will be touring cities across the country before landing in Toronto on July 12 and 13 for the final matches of the tournament. Each stop will feature live match broadcasts, music, swag giveaways and activities sponsored by CIBC, Adidas and PlayStation. The two-day Toronto stop, closing down the street in front of CBC's Canadian Broadcasting Centre, will have a Budweiser beer garden and musical performances by Shad, Alysha Brilla and Maestro.