TheScore gets 'Furious' over March Madness
Universal Pictures Canada is one of the brands on board for the sports app's NCAA tournament coverage, using it as a launch pad for the upcoming Furious 7 film.
Mobile sports platform TheScore has added more brands to its lineup for this year's "March Madness" college basketball tournament.
Looking to jump on the app's traffic during the three-weekend-long U.S. competition – which garnered more than 85 million page views during the tournament in 2014 – are Smirnoff, Audi and Universal Pictures, along with returning sponsors Werner Ladders and Subway.
Each brand is activating on the app through rich media units, native ads in TheScore's news feed, sponsored and custom content, as well as sponsorship of the launch presenter (the page users see as the app loads) on select days.
Universal Pictures Canada, for instance, is leveraging the tournament to promote the latest installment of its long-running action franchise, Furious 7.

Universal Pictures campaign on the app, with media by Maxus, launches March 23. It will have exclusive sponsorship of the app's launch presenter, which will say presented by Furious 7, during the tournament's opening games as well as on April 2 and 3, a day before the semi-final games.
In addition, the campaign will be supported by mobile native ads in users tournament-related newsfeed, as well rich media in the March Madness bracket.
The sponsored content includes newsfeed article features called "Quick Exits" (about first-round upsets), "Furious Buzzer Beaters" and "Furious Plays of the Night" all presented by Furious 7. That sponsored content will be pushed out to coincide with actual tournament developments, such as a high-ranking team getting knocked out of the tournament by an underdog.
"We want to capitalize on that real-time story and real-time moment to garner the most traction," says Cameron.
Lisa Jackson, digital manager at Maxus, adds that it allows Universal "seamlessly integrate Furious 7 within the Sports environment and keep the brand top-of-mind during the tournament."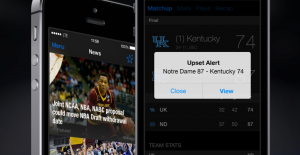 With up to four games taking place simultaneously throughout its opening weekend, the tournament, which begins on Thursday, is well-suited to the app, as fans with skin in the game (namely, office bracket pools) will be looking for up-to-the-minute updates. Last year users were checking TheScore's featured "NCAA Bracket" more than five times per day, says Tyler Cameron, senior account executive at TheScore.
To drive traffic, last year TheScore introduced an interactive bracket viewer and a feature called "Upset Tracker," which will tell users when a lower seeded team is leading a game at halftime or with five minutes left. Users will also be able to customize their experience throughout the tournament, choosing to receive alerts for all games or just the teams and players they care about.
TheScore's average monthly active users reached 10.2 million in Q1 of 2015, its most recent quarterly report, with 4.8 million in-app and 5.4 million accessing it via mobile web.
Top image courtesy of Shutterstock.