TSN and Sport Chek get physical
The retailer has installed a set for TSN in its Maple Leaf Square store, aiming to capitalize on nearby "sports moments."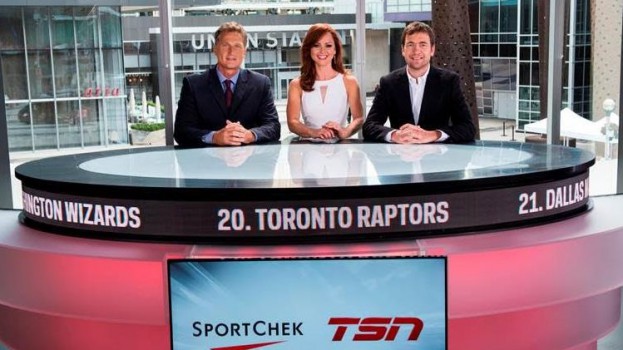 Consumers might notice something different while shopping at Sport Chek's Maple Leaf Square location in Toronto this summer: a TSN in-store studio.
Some industry members have said it's a crazy idea to take precious retail real estate and use it as a space that can't directly sell goods, says Frederick Lecoq, SVP of marketing for FGL Sports, but, he says, it aligns with the brand's shift towards sports content marketing and away from traditional advertising.
"One of the big pieces around the deal was with content, because we need to shift from being more advertising creative-driven to being content-driven," says Lecoq. "That is really the heartbeat of the agreement with TSN."
The new studio turned on the lights this week, broadcasting Sportscentre editions and custom basketball content leading up to the NBA Draft this Thursday at 7 p.m. on TSN2.
The studio and second floor of the store will be open later this summer, with Cabbie Presents, TSN Drive with Dave Naylor, Sportscentre and Leafs Lunch being broadcast from the new area. Lecoq says the studio's proximity to the Air Canada Centre across the street, which he calls the "Eiffel Tower of sports in Canada," allows for the potential to create "sports moments" around big upcoming events like the 2016 NBA All-Star Game and 2016 World Cup of Hockey.
The satellite studio will feature a nine-foot broadcast desk, sports ticker with LED lights and a 48″ TV screen.
Bringing a TSN studio into a Sport Chek store is the next step in a relationship between the two companies that started last year when the Canadian Tire Corporation (Sport Chek's parent company), signed a three-year content creation deal with the sports media brand.
Image (left to right): TSN's Leo Rautins and Kate Beirness, Frederick Lecoq, SVP of marketing, FGL Sports