Shazam mixes up a new partnership
Details on the app's new native ad opportunities and the program it's rolling out with Corby Wine and Spirits.
Shazam is heading into the end of summer on a high note, announcing new advertising opportunities and a partnership with Corby Spirit and Wine.
The music and TV listening app has 3.5 million monthly active users in Canada, with a total of 17 million Shazams a month. The app reports year-over-year growth of 17%. Over half of Shazam users (60%) are male, with the majority of users being between the ages of 25 and 34 years old.
Shazam's first new ad product launch is around in-line video. The product aims to give clients another option to reach consumers who are viewing more and more videos on their phones, says Jed Schneiderman, co-founder and president at Tapped Mobile, which represents inventory for the app in Canada. The autoplay video ads will appear in-line on the app's homepage.
Brands are now also able to sponsor new specific Canadian music charts or artist pages, and Schneiderman adds clients can extend that targeting by buying around certain genres. Pricing for the new options are by CPM for the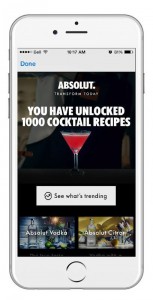 in-line videos and on a sponsorship basis for the new Canadian music charts and artist pages.
In addition to bringing new ad products to market, Shazam is also bridging the gap between mobile and in-store for Corby Spirit and Wines with a new partnership. The deal, which is across the brands' portfolio of wine and spirit brands, is being launched with an activation for Absolut. The company has printed 100,000 bottle-neck tags to be placed on Absolut bottles in Alberta, Ontario and British Columbia with a scan able image that takes Shazam users to a custom mobile site with images and videos for 1,000 drink recipes. The Shazam watermark on the neck-tag is visible to the app but can't be seen otherwise.
"This activation is a good way to integrate digital into our other consumer touchpoints," says Ryan McCue, director of trade marketing, Corby. "It helps us to bring our brand to life in a way consumers are looking for right now."
McCue says Corby will be rolling out additional activations with Shazam in the coming months, but declined to specify the brands that will be showcased next.