What does Vividata do for print measurement?
Industry execs weigh in on what the launch of the measurement body means for the print business.
At the end of last week, Media in Canada reported on the launch of Vividata, a new measurement company born out of the merger between Nadbank and PMB. 
It's been touted as a game-changer for measuring the newspaper and magazine business, but taking a step back, is it all that its being made out to be? And how does the new organization stand to impact the publishing business?
There are a few key ways in which the new measurement body is different from its predecessors: it is a single-source data centre, data is collected far more often and it is much cheaper for members that now pay for one, not two, services.
Phillip Crawley, publisher and CEO of the Globe and Mail, has pushed for a single-source measurement organisation for some time now and calls Vividata the end result of a "long pursuit."

"[We] were not satisfying our agencies with the data we were feeding them from Nadbank and PMB. I had senior agency people telling me, 'Look, you need to get better data to tell your story.'"
The collective body that worked on brainstorming Vividata undertook a global study of markets, looking into best practices in markets like Australia, the U.K., New Zealand, France and Germany. 
The end result of that analysis, Vividata, is an annual study measuring 78 newspapers and 80 magazines with data collected during a 12-month cycle and presented in quarterly reports.
Sara Hill, president of Vividata, says the new system relies on an online-based method of data collection versus the landline-based data collection of the past. Vividata has produced the chart below to show the differences between Nadbank, PMB and Vividata: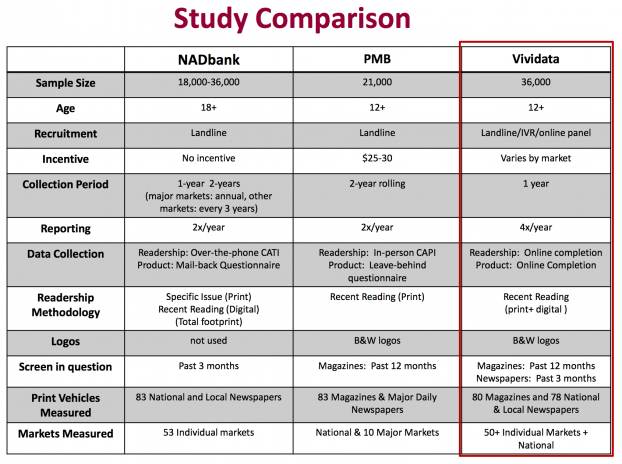 Crawley says Vividata's differing sampling methodology includes a more detailed analysis of newspaper and magazine audiences. "It captures an audience of Canadians in a different way and it is more representative of the market that the two organizations were before…at one end of the market it captures more people…and it captures digital much better."  
Vividata captures more about the people it surveys, including information on specific demos, whether those surveyed have jobs or not, where they are located, and so on, which will allow agencies and advertisers to access hone in on more target-worthy info about newspaper and magazine consumers. In addition, the organization's  quarterly reports provide unduplicated audience numbers for print and digital as well as unduplicated audience of an average weekday issue of all measured newspapers.
The body's digital audience measurement is based on recall only, explains Hill. The organization measures the digital audience of a newspaper based on anyone who said they have accessed the paper's digital replica or accessed online newspaper content via a website or app yesterday.

With magazines, that measurement is based on whether consumers say they accessed the magazine website or a digital issue or content via app, online, social media, websites or e-newsletters yesterday. That data is based on "the qualifying time period – yesterday up to past three months, depending on the print publication frequency – of the magazine," explains Hill.
The Vividata study is also valuable because of its single-source advantage, a carry-over from PMB. The study captures not only title readership data but also product/brand usage data from the same respondent, allowing titles to be evaluated by both product/brand user and demographic targeting data. 
Many agency heads welcome the new product.
Shelley Smit, president UM, feels that a singular measurement product with more frequent reports gives the agency more to work with. "It's great that we can finally look at a total brand footprint for the print titles across platforms, see the platform duplication and track how that changes in the future thanks to more frequent reporting."
One other advantage of the Vividata, according to Michele Pauchuk, president, MEC Canada and vice-chair of the Canadian Media Director's Council (CMDC), is fresher data as well as a more current methodology. Pauchuk is also chair on Vividata's board of directors.
"Because of the new methodology we saw things like older people being much more involved with the internet than we ever thought in the past," she explains.

PHD's Rob Young takes a slightly different view. He says that Vividata's most significant contribution is that it is a single-source, money-saving effort.  Young, who sat on the board of PMB some time ago, says the effort is to be commended but it's not as drastic a change in measurement as one might expect.
"The logic went something like this (in the publisher world): the internet is eating our lunch. The internet has real time measurement and granular data. So if our newspaper medium had that kind of data we'd get more ad revenue. But oops, we can't get that kind of data. But at least we can turn the data gathering process around faster. So let's do that and save some dough as well."
The result, Young says, is perhaps a "lake" change but not a "sea" change. "It's basically a PMB study, with online survey technology bolted onto the original and with newspaper titles added to the title list. The reason the name changed is to ensure that both the magazine and newspaper industries see this new combo study as a joint effort as opposed to a PMB takeover of Nadbank."
Young says the new model preserves the PMB "gold standard" with a faster data turnaround. It is preserves the PMB model that included valuable product/brand data that advertisers want. That model allows for a "much more equitable distribution of funding between seller and buyer," explains Young. By comparison, Numeris and Nadbank did not have brand/product data in their studies. 
Penny Stevens, president, Media Experts and chair of the Canadian Media Director's Council (CMDC) is concerned is that advertisers and agencies may see the product as self-serving if the numbers are up. "People should smarten up and recognize the integrity of the data for what it is."
And where will measurement go from here? Pauchuk feels that there will be more fusion with various data sources as the importance of data grows. "If the measurement companies don't do it then agencies will create them on their own," she forecasts.
Meanwhile, Vividata is good news for publishers, she says. "Print is alive and well, but we need to change the definition of what print means. Marketers have walked away from the medium because it's print and not cool, but the one-on-one relationship is still what counts." 
Crawley couldn't agree more. From his point of view the birth of a new body allows the Globe and Mail to tell agencies and marketers that their product is strong and that engagement with it – and the Globe Alliance's other products – are strong.
"What to me has been a problem is that [until now] we have lacked the data to tell a good story."
With files from Val Maloney
Image courtesy of Shutterstock