Fall TV: Bell Media finds hits in Quantico, Blindspot
Programming execs Mike Cosentino and Tracey Pearce weigh in on hits and misses for Bell Media's conventional and specialty channels this fall.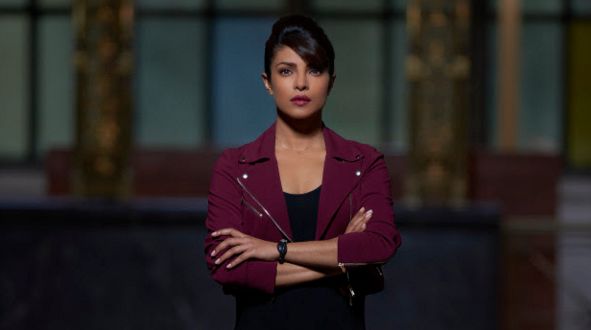 Bell Media is crowing about its fall season, taking the top two spots on conventional with well-performing dramas Quantico and Blindspot and some wins on specialty as well. While baseball stole some of conventional's thunder (who wants to bet non-Rogers TV execs were secretly rooting for the Rangers and Royals?), the company is reporting a few surprise highlights, like the better-than-expected debut of Trevor Noah on Comedy Network and having three of its new dramas in the overall top 10 most-watched shows of the fall season.
Media in Canada and Playback caught up with Bell Media's programming execs for their take on what worked and what didn't for fall 2015.
Conventional
CTV was clearly happy with the performance of its new dramas, with acquisitions Quantico and Blindspot the most-watched new shows of the season. Quantico averaged 2.191 million total viewers over its fall run, while Blindspot averaged 1.88 million. The shows ended up in the #5 and #8 rankings, respectively, on the list of top 10 most-watched programs in Canada for the fall season, according to the broadcaster. (All ratings final, Sept. 21-Nov. 15, Numeris.)
Overall, CTV saw viewership drop  about 5% this fall, based on average weekly reach, according to Numeris numbers provided by MediaCom Canada. Part of the blame can be assigned to the Blue Jays playoff run: Sportsnet's coverage of the MLB post-season (September and October) saw a viewership bump of 122% year-over-year. Likely as well is the continuing impact of changing viewer habits, as Canadians adopt more OTT, cross-platform and on-demand viewing.
Still, CTV had six of the top ten shows for the season, with Quantico pulling an average audience of 2.1 million between Sept. 21 and Nov. 15.The show was number five overall for the fall period. Blindspot is the second most-watched new show of the season and eighth overall, with an average audience of 1.8 million viewers. (All ratings final from Numeris via Bell Media.)
Mike Cosentino, SVP of programming, CTV Networks and CraveTV, says the company achieved its goal of aging-down its audience slightly over the last two years, dropping the average age of its primetime viewers by two, moving from 46 in 2012 to 44 this fall.
One disappointment was Blood & Oil, which aired Sunday nights at 9 p.m. opposite stiff competition, ranging from the NFL to The Walking Dead. The series didn't perform well stateside either, and its order was reduced from 13 to 10 by ABC, with its future so far uncertain.
Another highlight for the net was the return of The Big Bang Theory, which moved back to Thursday nights after six weeks of airing Mondays at 7:30 p.m. In the first weeks of the year the show had dropped 20% to 25% off last year's numbers, averaging 2.5 million viewers for the period between Sept. 21 and Nov. 15.
Specialty
On the specialty side, Bell Media's entertainment specialty channels were home to five of the most-watched programs across all specialty channels with total viewers, with Doctor Who (Space) coming in at number one, followed by Canada's Worst Driver (Discovery), Highway Thru Hell (Discovery), The Librarians (Space) and Dancing with the Stars (Bravo). Three of Bell Media's specialty channels – Discovery, Space and The Comedy Network -  also ranked among the top 10 entertainment specialty channels with total viewers, and the key A18-49 and A25-54 demos. (All data based on Numeris data provided by Bell Media.)
Tracey Pearce, SVP of specialty and pay at Bell Media, attributes the fall TV schedule success primarily to a programming strategy which saw the media co "double down" on the amount of exclusive content offered on its specialty channels.
"I think from a viewer's perspective, that is really what delivers on specialty channels. Particularly with respect to some of our top brands, which would be Discovery, Space, Bravo, Comedy, as well as slightly smaller channels like Animal Planet and ID. We are seeing there are signature programs that people return for that we are then trying to supplement with new programs that speak to what we think people expect from the brand," Pearce told Playback Daily.
Tried-and-true titles which continue to perform on Bell Media's specialties include the aforementioned Doctor Who, Canada's Worst Driver and Highway Thru Hell, along with E!'s Keeping Up With The Kardashians and Space dramas Face Off (season 9) and The Librarians (season 2), which Pearce says found their legs later in their runs. While not on the top-five list, Pearce noted the return of Legends was a "real pull" for Bravo, and worked well with new shows such as the Sharon Stone-starrer Agent X.
"For us, [Agent X] is really on point for Bravo, which made a really successful transition from a high-arts channel, to…smart, gourmet-popcorn fare," Pearce said.
She says the programming team was pleasantly surprised by the performance of The Daily Show after Trevor Noah took over hosting duties from Jon Stewart this fall, with total viewers up 30% over last year for the combined 11 p.m. and 3 a.m. broadcasts of the show on The Comedy Network.
Not all newcomers, however, were winners for specialty. Pearce pointed to Partners in Crime, a limited run British series which aired on Bravo, as one that felt short of expectations.
"In acquiring the show, we thought it was a bit back-to-the-future for Bravo. It has Jessica Raine in it, who is so great in Call the Midwife, and it felt fresher and younger than a traditional Agatha Christie series. But maybe we didn't communicate that clearly to the audience. We had high hopes for it, but it didn't quite achieve those," Pearce said.
Check back with MiC in the coming days as we continue to report on how the broadcasters fared this fall.