Spotted! The force awakens in Toronto
Disney is adding to the excitement around the latest Star Wars film with a pop-up store in Toronto.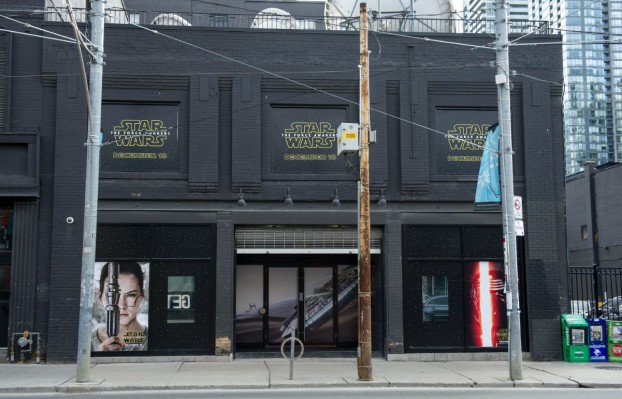 As the buzz around what exactly happens and who plays what roles in Star Wars: The Force Awakens grows, Disney is giving Torontonians a chance to experience the pre-party through a pop-up exhibit that opened this Sunday.
The 16-day event located at the Bell Media campus on Queen Street will give fans a sneak peek into the seventh instalment of the iconic film series, which first launched in May 1977 with Episode IV: A New Hope. Visitors to the exhibit will be able to see life-size replicas of Rey, Kylo Ren, Captain Phasma, BB-8 and a First Order Stormtrooper. All props have been created by the same U.K.-based company that made the official props for the film. They can only be seen here in Toronto.
Fans will be able to take photos with BB-8 using their own phones or get a free printout to take with them. They can also purchase limited-edition t-shirts. Disney is turning to social media to announce new activities using #TheForceAwakensTO each day as well as special guests to the store and themed days rolled out over the 16-day period.
To build up the excitement around the film, Disney is gradually releasing  little tidbits – viewers have a glimpse into Lupita Nyong'o's character through in international TV spot for the film and fans also now know that the female character Rey is a scavenger on Jakku. "The Toronto Exhibit was designed to give fans just a small tease about the film before the December 18th release," explains Barb Matheson, director, publicity at Walt Disney Studios Motion Pictures Canada.
Promotions for the film are visible across the city with Bell Media's TTC ads featuring characters framed by a smartphone or tablet. X-Wings/ Millennial Falcon can also be seen rapidly flying by on billboards in downtown Toronto.
The Force Awakens opens in Toronto on Dec. 18. The pop-up store is located at 277 Queen Street on the Bell Media campus.