Samsung shoots for millennials with NHL partnership
The brand has expanded its deal with Rogers Media, including becoming the first title sponsor of its Sportsnet Fantasy Hockey Pool.
Reaching millennials is the goal of Samsung's expanded NHL programming partnership with Rogers Media.
Last year the company had a straightforward deal with the media co, sponsoring the cross-country Rogers Hometown Hockey Tour and the in-game plays under review segment The Situation Room.
Now the brand is entering the second half of the NHL season with an expanded deal, making it a major component of Samsung's sports strategy for 2016, according to Mark Childs, CMO at Samsung Canada.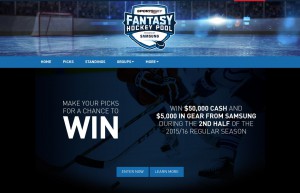 "Hockey continues to be a passion point for our young-minded millennial consumers, and our first season partnership results proved the campaign was highly engaging," he says.
The brand declined to share results from the first year of the partnership.
As part of the new deal, upcoming games this season will see Samsung spreading its sponsorship across additional properties and platforms during remaining regular season games and the 2016 Stanley Cup Playoffs.
On broadcast, the brand will be integrated into all NHL on Sportsnet broadcasts, expanding its activation of The Situation Room to offer exclusive additional content during the play disputes for viewers who have Samsung devices. Samsung will also be sponsoring the Net Cam angle during games.
In addition, Samsung is hitting the road with Rogers, taking The Situation Room to each city on the Rogers Hometown Hockey Tour, beginning the weekend of Feb. 13. The new activation will allow fans to play official from a touring version of the broadcast segment, testing their skills against a series of hockey plays.
The brand is taking a multi-pronged approach online, starting off with becoming the first title sponsor of the Sportsnet Fantasy Hockey Pool, which currently has more than 20,000 registered users, according to a Rogers Media spokesperson.
It is also offering a free 30-day trial of Rogers NHL GameCentre Live for 10,000 Samsung customers. According to the latest numbers from Rogers Media, paid subscriptions for Rogers NHL GameCentre LIVE are up 122% for the season to date versus the same period last year, with total active users on the app up 25% compared with the entire 2014/15 season average. Average stream minutes on the app have increased 75% compared with last season.
The brand is wrapping its online activations by sponsoring the "Goals and Saves of the Week" video series on Sportsnet's Facebook page.
In addition to partnering with NHL programming on Rogers Media, Samsung is also a Canadian partner of the NHL.