Diving deep into boomers' media consumption habits
An MTM study shows that boomers are fast adopters of new media, while still retaining certain traditional habits.
They are the wealthiest demo in the country and account for one-third of Canada's population. They like technology but didn't grow up with it. They have spending power, a high level of education on average and a strong, career-focused trajectory.
You guessed it, we're talking baby boomers.
But given that the oldest in this demo, which stretches across the birth periods between 1946 and 1965, were born shortly after WWII, how does this demo respond to and use media and technology? A new study conducted by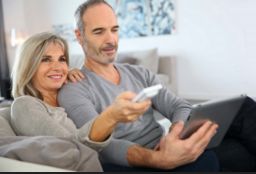 Media Technology Monitor at the close of 2015 aims to understand how boomers consume media. The survey defines boomers as those in the 50-to-69 age group and makes a distinction between the viewing and adoption habits of younger (50- to 59-year-olds) and older (60-to 69-year-olds) boomers. Collectively, they make up about 34% of the adult Anglophone market.
The research body has now released its findings from the study, titled "A Profile of Boomers' Media Technology Adoption and Use," a report similar to the MTM report MiC recently covered on seniors.
According to its findings, boomers are still tied to traditional media, but are open to new formats and forms. Nine in 10 boomers still have a paid TV service (cable, satellite and fiber-optic), just under the seniors rate of paid-TV adoption and significantly higher than younger Anglophones (those who fall into the under 59 demo). Of that total, 47% have a paid cable service, compared with 56% of seniors and 36% of younger Canadians.

Boomers have a high rate of media consumption, on average spending about 16.6 hours a week watching traditional TV programs, squarely in between older and younger demos. They also spend about 15 hours a week using the internet, and 10.5 hours a week listening to radio.
According to the survey, boomers' most-loved TV viewing options include CTV, Global, TSN and TVO. Radio consumption is higher in this demo than any other, with 92% listening to the radio, and 86% getting radio through a receiver. About 20% listen to satellite radio. And in the past month, 51% of them streamed audio online. The biggest chunk of that (36%) consumed music through YouTube.
How do boomers consume newspapers? More bad news there. Only 25% subscribe to a daily newspaper, compared with 48% of seniors. About 62% of boomers read news online, with 47% counting CBC, CTV, CNN and Global News as their go-to sources of information online. About 42% get their news from the Globe and Mail, the Star, the Gazette, the Sun and the Province. Some 23% read news through their social media accounts.
Boomers are open to new devices and have a preference for Apple products. They have a high adoption of tablets, with about 50% of boomers owning one. Younger boomers (between the ages of 50 and 59 years) have a higher ownership (and usage) of new media devices. Compared with younger Canadians in the Anglophone market, 88% of whom own smartphones, 61% of boomers have their own smartphone, with that number going up to 68% among younger boomers. And how to they use their smartphones? About 75% connect to the internet with their devices, in comparison with 92% of younger Canadians.
Wondering how the 4K revolution might impact the boomer population? This report shows that boomers adapted quickly to HDTV, more or less matching the adoption rate of younger Canadians with 76% owning a HDTV set. More boomers have HD receivers and PVR sets than any other Canadian demo in the Anglophone market.
And how do boomers consume online video content? While 74% of boomers do watch online video, only 36% watch online TV. 
A third subscribe to Netflix, about 75% watch online videos, 59% of them mostly turn to YouTube. Only 36% watch TV programs online and spend about 5.2 hours a week consuming online video. Most of that consumption happens by going online on a computer (24%), followed up connecting online through their TVs (19%).
Boomers also have a social media presence. Over half of them are Facebook users, compared with 83% of younger Canadians.  Most social networking activity takes place through a personal computer, with over 80% choosing that device. Boomers are 83% less likely than  younger Canadians to use a smartphone for social networking.
Both older and younger boomers are comfortable multi-tasking, with about 73% saying that they use multiple devices at once. Most often, boomers tend to send and receive texts or emails while multi-tasking.
Results for the report were collected using a mixed-methodology approach involving a phone survey and a follow-up online survey. Data was collected during MTM's Fall 2014 and Spring 2015 survey collection.