Can Vice break the traditional TV model?
The new channel will introduce native advertising on TV, with an aim to disrupt the dominance of the 30-second TV spot.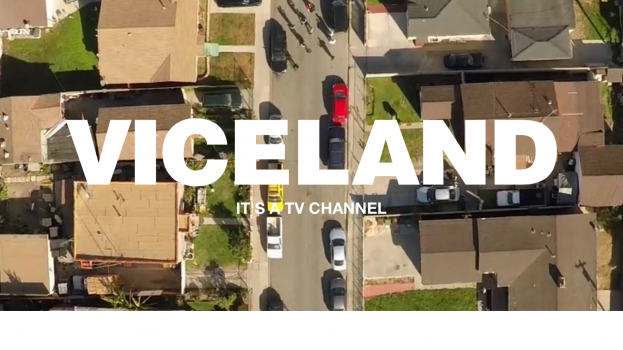 It's game on for Viceland, the Vice Media TV channel that launched today in partnership with Rogers Media. The print-to-digital-to-linear company is working overtime to make sure it's as multiplatform as possible, opening avenues to advertisers hungry to reach the millennial demo.
The launch is taking place simultaneously in the U.S. and Canada. In Canada, Viceland arrives alongside the debut of skinny basic packages and the upcoming pick-and-pay models. Rogers has brokered carriage deals with 33 BDUs across Canada, including Bell, to carry the channel, creating a new opportunity to reach the fickle and cord-cutter-happy millennial audience.
Possibly more significant than its timing alongside seismic changes in Canadian TV, however, is its ambition to upend the traditional ad model, both in the U.S. and Canada.
In Canada, Vice Media is looking to move outside the 30-second spot by promoting native advertising for TV, in which it would produce in-house content designed to complement its programming. And in the U.S., media reports say the channel will be offering reduced ad-load, looking to de-clutter the space for clients.
The native content idea is a bold one, but not one that will necessarily fly out of the gate, says Lindsey Talbot, managing director, trading at Maxus Canada. "There's no channel in Canada offering anything like it," she says. "But the content is pretty risque so it will limit which clients will be willing to work with it…80% of our clients won't find it appropriate." She plans to wait and see how the channel fares and how it will be rolled out by Canada's various BDUs.
David Purdy, chief international growth officer at Vice told MiC he sees the opportunity for a new partnership between broadcaster and advertiser. "The agency and studio could be doing a lot more together and you'll see the first foray into that is the work we are doing for Fido, a daily newscast. You can build on that."
Native content is still modest in Canada, says Purdy – but Vice hopes to change that. "It's measured in the millions, not in the tens of millions. There is an opportunity to grow that service."
That might take some time, says Talbot, who doesn't see a world where advertisers are willing to break the traditional model by investing in creating sponsored content specifically for one channel. "It's a fresh perspective as a way to approach majority of the way advertisers do business with them but it will be harder to break that mould here."
Cost is another factor, though Talbot says her agency isn't yet aware of inventory pricing for the channel. An article in U.S. trade Ad Age recently featured an article including unnamed buyers who said the channel is priced too high. But in Canada, prices aren't likely to be set high, says Talbot, who expects Rogers Media will offer early bird deals to attract early adopters.
In regard to ad load, Rick Brace, president, Rogers Media, says the channel has no plans to change the amount of advertising time per hour but is opening up to more interstitial type of advertising.
Access to TV gives Vice the kind of expanded reach digital doesn't yet provide, says Brace. "It's a combination of all platforms that makes the difference."
At launch, Viceland will feature nine original series produced by Vice Studios, including documentary series Cyberwar and RISE, unscripted entertainment series Abandonment Issues, Dead Set on Life, Payday and Shroom Boom and pop-culture focused factual entertainment shows VICE Essentials Canada, VICE Guide to Comedy, and VICE Guide to Film.
Colette Watson, VP of television and broadcast operations at Rogers Media, said the current focus on having Vice Studios handle production on the bulk of its original series is part of a larger brand-building strategy for the channel. That strategy involves reaching out to a new target demo.
"In order to survive in the new world of television – whether its fragmentation, cord-cutting or pick and pay – we have to transform. A way to survive is to be a strong brand. And Vice is a really strong brand for the demographic we want to reach, which is millennials," Watson said.
Purdy says the ideal package that includes Viceland for millennials would be a low-cost package with the ability to build up incrementally (like, skinny plus one). Long-term, as millennials grow their finances and their families, they can add onto those packages with other content, he says.
It will also be offered with a TV Everywhere-style GO app for cable subscribers, he added.
Purdy's long-term view of the business is a world where Viceland will have equal subscribers on mobile apps and on traditional cable and satellite. The company also has plans to develop ties with gaming console companies in the near future.
For Rogers customers, Viceland will be offered as part of a bundle alongside five other entertainment channels, including A&E, Bravo and Showcase. That package is valued at $5 for Rogers subscribers; it's unclear how other distributors will package Viceland for their subscribers. When reached Bell Media declined to provide any details on its packages ahead of the introduction of skinny basic, which goes live tomorrow.
 Updated: The number of carriers of Viceland was updated in this story  from 25 to 33, based on new information obtained after publication.