ICYMI: Vice Canada unionizes, Cannes shortlists begin
In case you missed it: Vice Canada employees have voted to join the Canadian Media Guild, Cogeco is adding Telelatino's channels and Cieslok is donating ad space to Pride Toronto (pictured).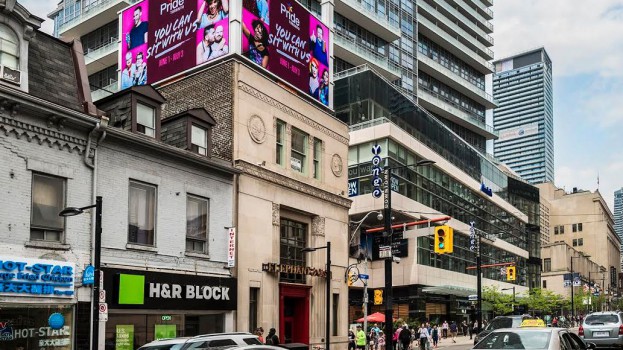 Vice Canada employees join union
The employees of Vice Canada voted in favour of joining the Canadian Media Guild union this week. The new bargaining unit includes all of Vice Canada's employees, with the exception of managers and salespeople. Vice Canada employees started the process of forming a union through the Canadian Media Guild in late 2015, citing better salaries, benefits and protection for contract employees among the reasons for the decision.
Cogeco adds Telelatino Network channels
The Telelatino Network has expanded its distribution with news that it has signed on with Cogeco to have seven of its TV channels available to the cable co's half a million Ontario subscribers. The deal includes Univision Canada, TeleNiños, Cinelatino, Mediaset Italia, Sky TG24 Canada and TeleBimbi. As part of the deal, Cogeco customers will have a three-month free trial of the new channels over the summer.
Cieslok signs with Pride Toronto
Cieslok Media is donating media space to Pride Toronto this month in support of Canada's first-ever Pride Month. Signage promoting the month's events will run in Toronto, Montreal and Vancouver throughout June, leading into North America's largest pride celebration, which takes place in Toronto from June 24 to July 3.
First Cannes shortlist released
No Canadian agencies appear on the shortlist of 39 campaigns for this year's Lions Innovation awards. Agencies from the U.S. and U.K. dominated the shortlist, with 13 and 9 campaigns recognized, respectively. The shortlist includes both Innovative Technology and Creative Innovation work.
The Weather Company adds Watson-enabled ads
U.S.-based The Weather Company has a new artificial intelligence-enabled ad unit, launching Watson Ads. The new units will allow visitors to the site to ask voice and text questions and receive information on products or brands through IBM's Watson AI. The new ads come following The Weather Company being acquired by IBM in January.