Postmedia launches in-house programmatic desk
The publisher has introduced an RTB platform for access to its network, as well as a number of external sites.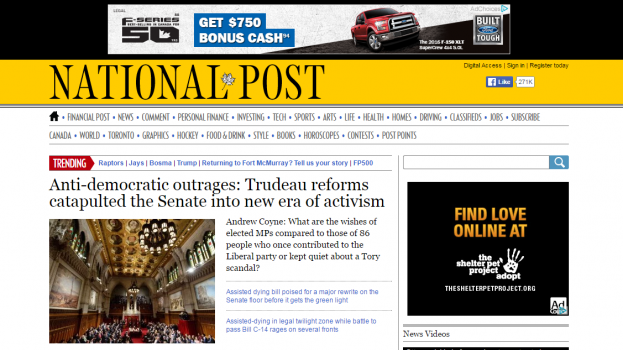 Postmedia is out of the gates with a new offer aimed at growing advertiser confidence in its extensive (but struggling) national chain of newspapers.
The media company has launched an in-house programmatic trading desk with the aim of giving advertisers more accuracy in reaching their target audience within and outside its network.
The news comes as Postmedia CEO Paul Godfrey works to diversify revenue streams for his company, which is mired in debt. Godfrey told MiC in a recent interview that he is working to develop a series of new revenue streams to respond to the decline in advertising. That includes deals like the one it recently struck with new financial company Mogo, which can advertise in the Postmedia network in exchange for a share of its revenue.
"As a print-based company, one of our biggest challenges has been major changes in consumer behaviour," Tony Patel, VP, monetization and programmatic trading at Postmedia, notes in a video about the new desk. "The reason Postmedia decided to open up a trading desk in-house was really to address the complexity on optimization of campaigns."
The in-house trading desk provides an RTB platform for brands looking to reach either or both local and national audiences and provides access to all of Postmedia properties, which include over 180 newspapers. It also includes a number of premium websites. The desk also has access to first-party data on consumers that the media company has, including behavioural information about how and when media is consumed in different markets.
In addition to the Postmedia network, buyers will be able to access sites that include but are not limited to huffingtonpost.ca, babycentre.com, VanityFair.com and CanadianLiving.ca.
The trading desk is powered by Google's DoubeClick Bid Manager.