The impact of The Hip
Can you measure a feeling? IMI International has attempted to, compiling live and post-event data around last week's iconic concert event.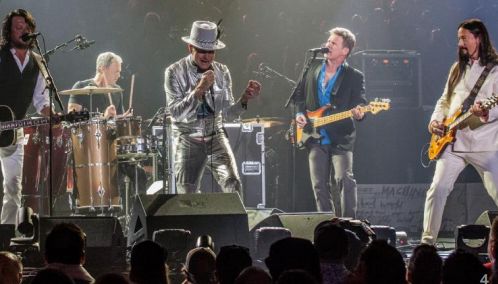 It seems cold to reduce what might be The Tragically Hip's final concert together to a series of numbers, but the impact of the cultural event on Canadian audiences is actually a tribute to the magnitude of the band's reach.
Global marketing consultancy IMI International gathered proprietary and secondary data to paint a picture of how Saturday's commercial-free show on the CBC was viewed by Canadians.
IMI surveyed 750 Canadians over the age of 13 on Aug. 21 and 22, and paired that with Numeris numbers as well as Twitter data.
In total, 11.7 million Canadians tuned in to watch at least part of the performance, according to overnight Numeris numbers, with an average audience of 4 million.
Of those total viewers, 4.9 million Canadians watched the concert outside their own homes; either with friends, at a bar, or at one of the more-than 300 viewing parties across the country.
During the show there were 490,966 tweets about the band and concert, with 374,922 unique participants in the conversation. The majority (60%) of the conversation stemmed from The Hip's home province of Ontario. Of tweets during the show, 57% of the content was retweets.
On the day of the concert, 1.8 million Canadians watched videos and performances from The Tragically Hip on YouTube.
The reach extended beyond the live-viewing, with 3.4 million Canadians recording the concert and 7.6 million people reporting having talked to friends about the band the day of the show.
IMI reports that the event's impact has lasted through the week, with 3.8 million Canadians watching parts of the concert again, 2.8 million streaming songs from The Hip since the concert and 2.1 million contributing to the conversation around the show on social media.
According to IMI's research Canadians appreciated the CBC foregoing the last Saturday night of ad-filled Olympic coverage to air the concert in its entirety - a really solid branding exercise in an age when Canadians have been questioning the necessity of its existence. Overall, 19.3 million Canadians reported feeling positively towards the CBC after the concert, 10 million agreed that the CBC is an important part of Canada and 5.8 million said they appreciated the pubcaster more than ever.
And, going back to measuring emotions, 4.7 million Canadians said they shed a tear during the concert.