ICYMI: 'Trashy' ad tops OOH Showdown, V Media's new CFO
Quebecor's anti-garbarge wins OOH award, V Media taps Eric Marceau to lead finances and CraveTV nabs MGM's 007 catalogue.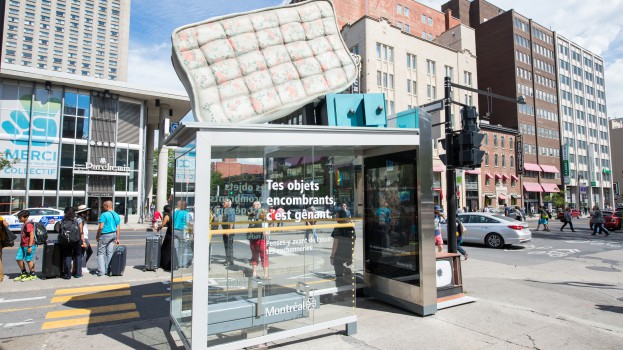 Quebecor tops OOH Showdown winners
At the Advertising Club of Toronto's 2016 OOH Showdown event on Oct. 20, the best and most innovative campaigns — and players — in the outdoor advertising industry were honoured. The Showdown Grand Prize went to Quebecor Media for its campaign with the City of Montreal on cleanliness, which featured life-sized garbage and waste on and around transit shelters (pictured). The campaign also was awarded the prize for the top street level, transit and/or transportation ad.
Other winners included IMA Outdoor for its campaign with Netflix promoting the second season of Daredevil (large format, static or digital); Pattison Outdoor for its "What Do You See?" campaign promoting Showcase's The Magicians (experiential) and its "Buy Gifts on the Go" campaign for Paypal (multiplatform);  Clear Channel Canada for its Daredevil "Fighting Billboards" campaign for Netflix (mobile integration) and its "Roulette Wheel" campaign for Fallsview Casino (non-traditional).
The People's Choice Award for buyer/planner of the year was awarded to Jeremie Marcouz, strategy supervisor at MediaVest, and the award for sales executive of the year went to Penny Harbin, national account manager with Outfront Media Canada. Rosanne Caron, president of OMAC and COMB was awarded the Merit Award.
Groupe V appoints new CFO
Quebec media co Groupe V Média has appointed Eric Marceau as its new VP and CFO. In the position, Marceau will supervise the company's business plan and overall management, and will be responsible for planning and implementing the control of all financial activities related to the company including mergers and acquisitions. Marceau will assume his position on Oct. 31 and report to president and CEO Maxime Rémillard. Prior to joining Groupe V, Marceau worked for nearly 15 years at Cirque du Soleil, working as CFO, as well as SVP, control, procurement and legal affairs and VP of control.
Road to the Olympic Games returning to CBC
CBC Sports will debut the second season of its sports series Road to the Olympic Games on Saturday, Oct. 22 at 4 p.m. The series will explore Canada's 2018 Winter Olympic Athletes as they prepare for the PyeongChang games 16 months from now. Scott Russell and Andi Petrillo will return as co-hosts of the program. The first episode of the series will feature footage from figure skating event Skate America. The events will also be streamed live online through the CBC's sports page and on the CBC Sports app beginning on Friday at 8 p.m. In addition to competition coverage, the series will include features on established Canadian athletes including Patrick Chan, Tessa Virtue and Scott Moir. In addition to skating, the series will also cover events in curling, alpine and freestyle skiing and snowboarding, speed skating, bobsleigh, luge and more.
CraveTV nabs 007
Bell Media-owned CraveTV has signed a deal with Metro-Goldwyn-Mayer (MGM) to acquire its full James Bond catalogue for SVOD distribution in Canada. The collection has gone live on the streamer, with 24 films currently available, including the very first film, Dr. No (1962) with the most recent film being 2008′s Quantum of Solace. The most recent film, Spectre, will be added to the collection in 2017.
Boom 97.3 to stir social media crowd with mixtape feature
Toronto radio station Boom 97.3 is asking listeners to share their love of retro music with a new online feature, "Mixtape of You." The new online experience presents users with a quiz full of questions including "When was your first kiss" and "Which clique did you belong to in high school," and then curates a 10-song playlist to encapsulate those memories. The playlists (or "mixtapes") will be featured on the station's website and users are encouraged to share those playlists on social media.