Spotted! Dewar's scotch egg speakeasy
In celebration of Robbie Burns Day, the Bacardi-owned scotch brand hosted a themed competition to engage with millennial males.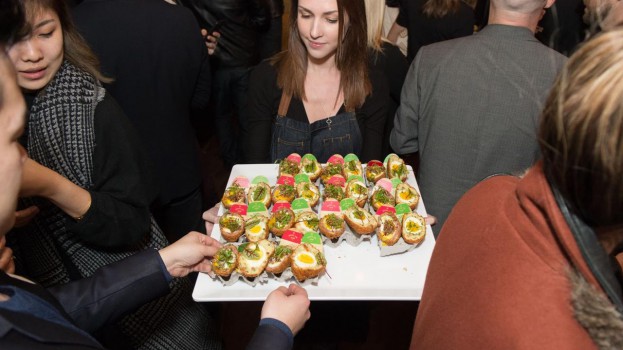 For those who traditionally celebrate Robbie Burns Day with a traditional plate of haggis, Dewar's Blended Scotch is hoping to introduce a new favourite to the day: scotch eggs.
To mark the Scottish heritage day on Jan. 25, the Bacardi-owned scotch maker hosted a branded speakeasy known as the Scotch Egg Club (and Tommy's Egg Kitchen) in an effort to drive up brand awareness in Canada.
The ticketed event, held at Toronto's Door Three nightclub, featured a scotch egg competition hosted by renowned Scottish chef James Forrest and featuring six chefs from across Canada. Attendees got to taste Dewar's various blends as well as the competing egg and cast their own vote in the winners.
The event is aimed at a very specific crowd according to Brendan McDonough, senior brand manager for Dewar's at Bacardi Canada.
"We're zoning in a consumer that is male, around 26, someone who's confident and independent and really values brands with authenticity and credibility," McDonough told MiC.
Toronto's Door Three, located in the hip King and Bathurst area, was chosen specifically to reach that demographic, but McDonough said the space's discreet style lent itself to the speakeasy atmosphere that Dewar's aimed to create. "It's really nondescript, there's not a lot of signage out front and it's a relatively new venue. It really allowed us to take over it as a venue."
The experiential activation is in line with Dewar's evolving strategy to get out and interact with customers — and coupled with Robbie Burns Day, McDonough said it was the perfect opportunity to try something more interactive.
"In recent years, Dewar's has mainly done pre-roll and digital video as well as a little out of home," said McDonough. "We're now trying to move into an experience that is more disruptive to speak directly to consumers."
The Scotch Egg Club concept was already rolled out in Brooklyn in the fall of 2016. While McDonough said the event was highly successful, he did not provide information on how many impressions were made at press time.
The event was promoted through branded content in BlogTO, Sharp Magazine, Notable.ca and Toronto Life, as well as promoted social posts on Facebook and Instagram. Pomp & Circumstance handled the media for the event.
At press time, the event had been sold out.