How sports are enduring the digital revolution
At a Rogers Media-sponsored FFWD Ad Week discussion, panelists debated how things have changed — and how they've stayed the same — in the world of broadcast sports.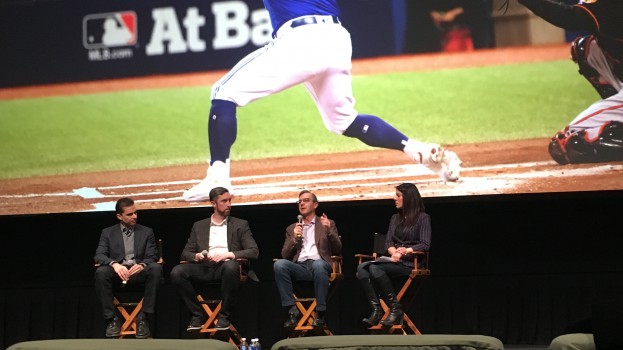 Much of the discussion at FFWD Ad Week has been about how despite the growth of YouTube and Netflix, television is surviving the digital revolution. But one vertical that's helping TV weather the storm the most is sports.
A Rogers Media-sponsored panel moderated by Hometown Hockey host Tara Sloan featured input from Charlton Insights CEO Gord Hendren, S&E Sponsorship Group EVP and COO Matthew Logue and Sportsnet VP of programming Greg Sansone, on how sports was still managing to get people in front of their TV sets — and what the future looks like for the vertical.
With the popular narrative being that young people would rather watch a YouTube video than sit in front of the TV for a few hours, Hendren opened the talk with the declaration that digital was "not even close" to TV. "Television is without question still king," he said.
According to Charlton's 2016 research, 96% of sports content is consumed live, with most of it being through a television set.
"Obviously multiple screens give you more options, and I can definitely see digital growing, but I don't see it ever overtaking television as the major delivery method [for sports]."
Sansone added that with 4K on the rise, (Sportsnet will be producing 300 hours of 4K content in 2017), he doesn't expect those numbers to waver.
Hendren said sports are especially valuable in towns cities with local teams — which the Toronto market has in spades — as it tends to bring in viewers that are more loyal and opt for more co-viewing. "There's an emotional connection, there's hometown pride, and that's a reason to engage."
Of course, he admitted, this can also result in a feast or famine situation for views.
"Hockey went through a major dip last year," he said. "All the major [Canadian] teams were out of contention." He noted that this year, there has been a major rebound with hockey since all seven Canadian NHL teams are in contention, the Toronto Raptors have been performing well and the Blue Jays and TFC also had strong seasons.
Hendren said digital media still plays its part in sports — that all one has to do is look at Twitter on a Saturday night when Don Cherry starts to rant on Hockey Night in Canada — but added that online will probably never replace television for sports.
"It's the social aspect of it, the celebrity aspect of it, that amplifies the experience," said Hendren.
Sansone noted that despite TV still being the predominant medium, broadcasters need to keep up with the pace of change and ensure that they're not missing out on key platforms.
"Even just a few years ago, you'd start a contract with certain technologies out there and whatever's available, then throughout the length of the contract, technology changes," he said.
"I can think of one example where with one league in particular, they considered tablets to be mobile rights, and if you didn't have the mobile rights, you couldn't use that content on a tablet. Now the way it works is, we negotiate for all platforms. If you enter into an eight-year contract with a league and three years later there's a new platform you've never even heard of, you've had the rights. Four years from now people may be watching the games through their contact lenses."
Approaching sports from a multi-screen perspective is a must for advertisers too, said Hendren. "The really deep fans are on multiple screens, and it's not just, 'oh, I can pick one and it'll do the job.' It all has to be integrated."
All three noted that with the new tendency toward multi-screen engagements, that will change the nature of advertisements.
Logue said that the emotional nature of sports means audiences require authenticity from brands. "To be perceived as authentic starts with real actions. The Scotiabanks, the Tim Hortons, the Krafts of the world, they all started in communities."
Hendren said that last year, Charlton did a hockey activation study that looked at 45 different campaigns, and Scotiabank and Canadian Tire were the most well-received sponsors and advertisers in hockey content. He noted that the highly emotional nature of the campaigns matched with the mood of the sports games.
Sansone sang the praises of sponsorships, adding that the days of vying for a 30-second ad spot are gone. "It's all about sponsorship now," he said. Unlike broadcast news, "We don't have to uphold a certain level of journalistic integrity. [The news] can't have 'Donald Trump's dumb Tweet of the day brought to you by whoever.'"
But Logue also warned that sponsorships could possibly go too far, cautioning that networks can't get too cocky when it comes to sponsor success. "There will come a time when we cross that line," he said. "We still have to ask ourselves, 'what is this ad to the consumer? How do I do something that adds real value?' Eventually a consumer is going to say 'I don't want that in my sport.'"
Sansone said this can be avoided by not always focusing on new innovations. "Sometimes there's a tried and tested way of doing things. Trying new things is great, but it's not always necessarily the best thing for a brand."